NEW AND FABULOUS IN THE CAPITAL CITY OF STYLE - VOL 2


"I am first a Melburnian, second an Australian." - Albert Tucker 1914-1999


---
JACQUI HENSHAW - BOTANICA ULTIMA Exquisitely sharp photography - immaculate black and white prints, so real that you will fear the cactii needles as you draw ever closer to study these irresistible, remarkable forms. We managed to keep hold of a few pieces in the store if you missed the recent exhibition, so come and work yourself up into a garden state and see them before they all go.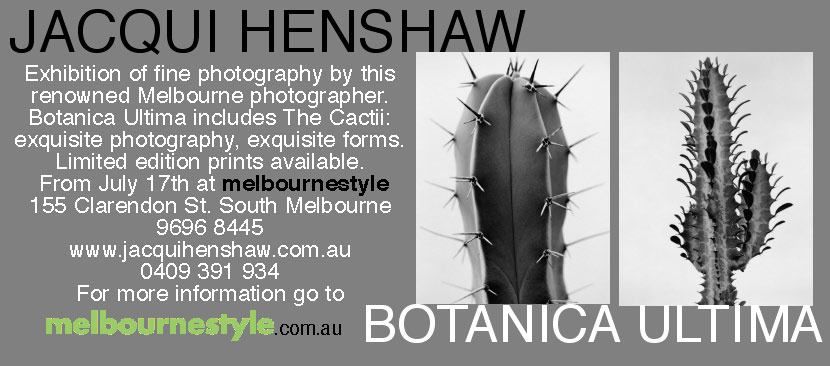 ---
MR. DEPP'S EARRINGS
Our fave jeweller of the minute has been drawn moth-like to Melbourne's creative flame, and is the one and only WILLIAM LLEWELLYN GRIFFITHS.
A silversmith for over 25 years, WLG as he is known, is the man to whom you'd go to buy Johnny Depp a pressie.
Master craftsmen are a rare breed, and one as exciting as WLG is a real bonus for Melbourne. An elegant man, quiet and profoundly talented, WLG brings a valuable texture to the fabric of Melbourne's fashion scene. Arriving in Melbourne only a minute ago, (2003) he is now living and creating right here in the city of style.

In his mysterious studio, soon to relocate to 122a Gertrude St Fitzroy, WLG creates gigantic amber baroque dress-rings the size of Edith Sitwell's fist that sit happily alongside tiny solid silver revolvers. His pirate-inspired, blunderbus-laden, skull-bedraggled galleons are to die for, and with the touch of the goth on his work, it's possible someone may well have done just that. Every piece tells a story of love and death, beauty and obsession, purity and excess. Exquisitely wrought in silver and stones, this jewellery will enchant the hardest heart.

WLG has created a skull-knobbed walking stick for Billy Idol, some big-time bling for Ali G, and gothic goodies for Marilyn Manson. With pieces worn by Michael Jackson, Angelina Jolie, and Britney Spears, and collaborations with Dolce & Gabbana, movies The Crow and Batman Forever, many a hollywood flash has electrified his gemstones. Featured at the Melbourne fashion Week 2003 and in magazines including The Face, Poster, Pavement, ID and Follow,his cult star is rising fast. WLG has also exhibited to appreciative audiences in Bologna, Zurich, Berlin and Milan.

Various themes possess him in turn like biometallic, classical greek, tattoo marks, architecture, medieval religious iconograpghy, and much, much, marvellously more. When we look though, we see history, convict ships, bushrangers, lost souls...We cannot part with this one, but more coming to melbournestyle soon, so stay tuned.


---
MATT IRWIN will be known to you, of course, for stunning black and whites of Melbourne town. Matt is always hunting for something new
in his home city and he sees no end to his search. It's all too much fun and the city is too beautiful to think of stopping.
His latest colour work is a new take on observing our city, where puddles and neons ooze life into the laneways, and history pushes on before our very eyes.
Fabulous colour canvasses now in store, or go to the source at www.mattirwin.com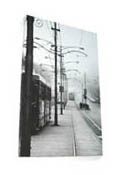 ---
BERN EMMERICHS is one of Melbourne's eternal creators. A ceramicist, mosaic artist and sculptor of great versatility, Emmerichs keeps getting better and better with every piece. She has been commissioned by everyone from Bjork to Paul Kelly, from Janet Jackson to SportySpice. Winner of the Sidney Myer fund Australia Day Ceramics Award, the Conwarr Contemporary Clay award, her work is housed in a dozen major collections around the country. Her mosaics enliven the rooms of the rich and famous, as well as elevating restaurants and retail. A recent series of Australian historic works are on display at the National Gallery of Australia in Canberra (including the large platter below, called 'Who are you?"). melbournestyle fell particularly for the aboriginal heritage walk tiles, a reconciliation statement in black and white ceramic. More on display in store.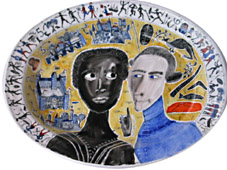 ---
BARAKA ON CLARENDON is a funky little alcove on Clarendon st Sth Melbourne that rewrites the book on service for the 21st century. At last, people who GET IT. You will feel welcome, special, and thoroughly indulged. No request too hard, no favour too trivial, no food yummier. Delicious tapas-inspired nosh, and superb dining devised by Chef Roland. The perfect place to retire to after, say, soaking up the colour at melbournestyle. Yet another brilliant spot to wet your whistle in Melbourne's fringe. Eat, drink, make yourself at home. Phone the fabulous Jacqui on 9686 5302 or just go to 231 Clarendon Street.


---
MAP'S NEW SHOWROOM
The designers of the most gorgeous Melbourne chair to hit the NY Guggenheim permanent collection, have moved.
MAP's Chris Connell and partner Raoul Hogg have moved from their long held bastion off Chapel Street to the wide open interiors of St Kilda.
Their minimal, horizontally inclined creativity can now spead out in the vast and empty stylishness that is 78 St Kilda Road.
This is pepe. Cute, huh. The Gugg agrees.


---
BLACKMAN'S ALICE SERIES is here! All 43 paintings are being gathered together ( with a bit of good PR driving cloak-and-dagger going down about lost paintings)
for a reunion exhibition of this landmark series. Beside Nolan's 34 Ned Kellys, this is probably the most renowned series in Australia's contemporary art history.
Charles Blackman: Alice in Wonderland will be on display at The Ian Potter Centre: NGV Australia from 11 August 2006. Admission fees will apply.


---
FIND OUT MELBOURNE'S TRUE HISTORY in The Melbourne Book - A History of Now by Maree Coote. This brilliant, colourful, eccentric volume comprise 368 pages of photographs and histories, as well as the contemporary culture and personalities that go to make this city a unique and unforgettable place.
This is funky history, made readable and human by a passionate citizen of the city of style. "There simply is no better book to have, to give, to keep forever, than The Melbourne Book. This IS my city." more



---
That's it for now.
Stay gorgeous,
Ms MELBA x

tellmelba@melbournestyle.com.au




And, because even OLD NEWS from Melbourne is better than NEW NEWS from other places...


...here are the BACK ISSUES - VOL 1