MELBSTYLE MEDIA - REVIEWS

---
"THIS MELBOURNE MECCA IS BANISHING THE CULTURAL CRINGE WITH ITS BEAUTIFUL AND UNIQUE INTERPRETATIONS OF AUSTRALIAN ICONOGRAPHY."


- Home Beautiful magazine

---
"E' negozio e galleria questo spot avviato con successo dall'artista Maree Coote, specializzato esattamente nel Melbourne style: arte, moda e oggettistica, tutto disegnato e realizzato in citta."


- Review :Italia Blogosfere

---


That's right - THE New York Times paid us a visit. How did they find melbournestyle? These New Yorkers... they don't miss a trick! What did they find in store? For full article on melbourne click here NYT Style Magazine Totally Aussie in Melbourne or jump direct to the article DESIGN WITHIN REACH


---
We also had a visit from JAPAN-VIC.TOURISM Inbound Shopping Guide. This well-researched industry handbook is the ultimate resource for inbound Japanese tour operators, and features melbournestyle as its lead store, while its cover features our legendary Melbourne Cups and Saucers. They even named it after us! Domo Arigatoo Gozaimasu! (Not available to local Aussie shoppers - but you don't need it - you already know where we are, right? )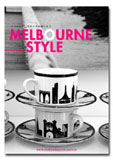 ---




Meanwhile, back here at home, since they first found us in Home Beautiful , the Home Beauties have visited time and again with their fab shoping tours (see below).
HOME BEAUTIFUL has listed melbournestyle in the legendary STYLE HUNTER Shopping Guide...So you can grab a copy (free with the latest issue) and visit us along with all the other top-shoppable spots in Melbourne in one go. Look forward to seeing you in your safari suits soon.
Thanks to the gorgeous gals at Home Beautiful - we are very chuffed to be included in their guide. See you soon.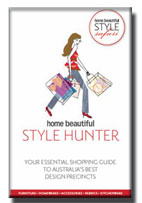 ---
melbournestyle is proud WINNER of two Port Phillip Glen Eira Leader Business Acheiver Awards 2007 :
Best New Business Specialty Retailer Category
and
Best Business Under 50 Employees Category.



---
The PORT PHILLIP LEADER loves melbournestyle's Melbourne Cups too ...
---
"EVERYTHING IN THE GALLERY PLAYS ON MELBOURNE'S UNIQUE SENSE OF HUMOUR AND CULTURE THROUGH CLEVER OBJECTS."


melbournestyle's domestic sculpture was profiled here in the EMERALD HILL WEEKLY's Retail Therapy column - the tag of 'Arte-facts and fictions' being uncannily close to what we are all about!
---
Once more, THANKS to all who have helped bring our message of place, style, art and history to the wider world.
---
If you have some good news about Melbourne, email us and we'll post your news and /or links right here.
---



NEW AND FABULOUS IN THE CAPITAL CITY OF STYLE
---

EXHIBITION OPENS February 10 - February 27, 2009 at melbournestyle





FACING HISTORY Works by Bern EMMERICHS and Kim TONELLI.

Meet the famous faces of Port Phillip's past, alongside the movers and shakers of today's pantheon. It's all history, it's just that you're standing in some of it.
Renowned ceramicist BERN EMMERICHS explores the colonial identity in a striking series of large format ceramic artworks. Hand-painted on stoneware tiles up to 1m wide, these exquisite paintings bring to life the people who shaped the early culture of the colony.
Photographer KIM TONELLI offers us the face of entertainment and creative celebrity, in photographic portraits of Melbourne's arty darlings, also shaping culture and making history. It's a rogues gallery of lovelies, a living archive, a tribute to our national treasures.

---

NOW SCREENING
For the first time, this 2.1m x 45cm screen in white enamel and black flocked-velvet banksia design. Original design by melbournestyle.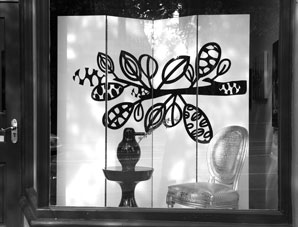 ---

EVERYBODY WANTS TO GET INTO THE ACT
With Wall Street shedding jobs, some bankers are trying their hands at comedy, filmmaking and writing.
Richard Florida, author of "Who's Your City?"and director of the Martin Prosperity Institute (what?) at the University of Toronto, sees the gravitational pull away from Wall Street and toward more creative industries as part of a necessary economic recalibration.
"The economy couldn't survive on speculation and what really amounted to advanced financial alchemy," he said. "We are now realizing it is our human creativity that is our real capital." Well, der.

Read the full story here:Former Bankers Turn to a Creative Plan B

---

SHADOW BOXING
Quaint and chic at the same time. Intricate artworks cut from black paper and mounted in a box frame. Pictured here, Banksia series #4
Approx 25cmx25cm. More instore.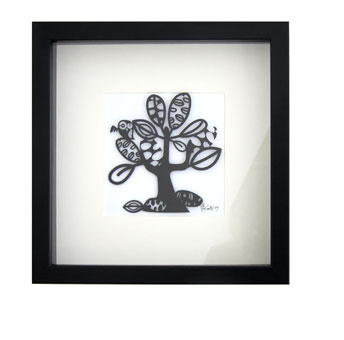 ---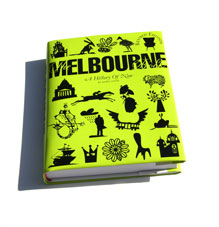 FINALLY. THE MELBOURNE BOOK REVISED EDITION 2009
It's coming. In store in March, 'The Melbourne Book- A History of Now' first published in 2003, has just undergone its 3rd reprint, this time with its first major update.
New hard cover, New chapters on Melbourne's street art and design culture, food and fashion... New tales from Melbourne's short but amazing history. New tales of Melbourne's physical, cultural, architectural, historical and mythical features. New photographs of this ever-changing city.
Over 700 photos, over 60 tales of the city. The must-have Melburnian's manual; it's the world's most liveable book. 368 pages, great value and now in Hardback cover.
WATCH THIS SPACE!

---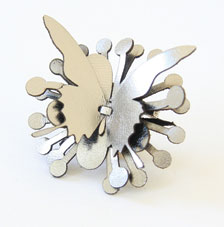 MELBSTYLE"S OWN SUMMER BUG
Silver leather brooch for the new year. Start off with wings in 2009. Designed and made in Melbourne by melbournestyle.

---
FIND US HERE
MAP re CBD

Closer MAP

---
That's it for now.
Stay gorgeous,
Ms MELBA x

tellmelba




And, because even OLD NEWS from Melbourne is better than NEW NEWS from other places...


...here are the BACK ISSUES - VOL 21 20 19 18 17 16 15 14 13 12 11 10 9 8 7 6 5 4 3 2 1





---