MELBSTYLE MEDIA - REVIEWS

---
"THIS MELBOURNE MECCA IS BANISHING THE CULTURAL CRINGE WITH ITS BEAUTIFUL AND UNIQUE INTERPRETATIONS OF AUSTRALIAN ICONOGRAPHY."


- Home Beautiful magazine

---
"E' negozio e galleria questo spot avviato con successo dall'artista Maree Coote, specializzato esattamente nel Melbourne style: arte, moda e oggettistica, tutto disegnato e realizzato in citta."


- Review :Italia Blogosfere

---


That's right - THE New York Times paid us a visit. How did they find melbournestyle? These New Yorkers... they don't miss a trick! What did they find in store? For full article on melbourne click here NYT Style Magazine Totally Aussie in Melbourne or jump direct to the article DESIGN WITHIN REACH


---
We also had a visit from JAPAN-VIC.TOURISM Inbound Shopping Guide. This well-researched industry handbook is the ultimate resource for inbound Japanese tour operators, and features melbournestyle as its lead store, while its cover features our legendary Melbourne Cups and Saucers. They even named it after us! Domo Arigatoo Gozaimasu! (Not available to local Aussie shoppers - but you don't need it - you already know where we are, right? )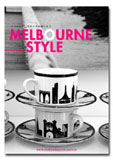 ---




Meanwhile, back here at home, since they first found us in Home Beautiful , the Home Beauties have visited time and again with their fab shoping tours (see below).
HOME BEAUTIFUL has listed melbournestyle in the legendary STYLE HUNTER Shopping Guide...So you can grab a copy (free with the latest issue) and visit us along with all the other top-shoppable spots in Melbourne in one go. Look forward to seeing you in your safari suits soon.
Thanks to the gorgeous gals at Home Beautiful - we are very chuffed to be included in their guide. See you soon.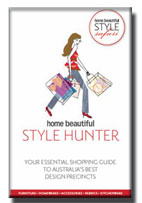 ---
melbournestyle is proud WINNER of two Port Phillip Glen Eira Leader Business Acheiver Awards 2007 :
Best New Business Specialty Retailer Category
and
Best Business Under 50 Employees Category.



---
The PORT PHILLIP LEADER loves melbournestyle's Melbourne Cups too ...
---
"EVERYTHING IN THE GALLERY PLAYS ON MELBOURNE'S UNIQUE SENSE OF HUMOUR AND CULTURE THROUGH CLEVER OBJECTS."


melbournestyle's domestic sculpture was profiled here in the EMERALD HILL WEEKLY's Retail Therapy column - the tag of 'Arte-facts and fictions' being uncannily close to what we are all about!
---
Once more, THANKS to all who have helped bring our message of place, style, art and history to the wider world.
---
If you have some good news about Melbourne, email us and we'll post your news and /or links right here.
---



NEW AND FABULOUS IN THE CAPITAL CITY OF STYLE
---






THE LOVELIEST ETHELYN OF THEM ALL
Go see 'Goodbye Vaudeville Charlie Mudd', and you'll see the loveliest Ethelyn of them all. Julia Zemiro and a fabulous cast weave a spooky tale of theatre and secrets on the banks of the mythical Swanston River, in 1914. The muddy waters are rising, and the lights are going dim..... We were moved to tears by the sweet, perfect, poignant piano-playing lovestruck sideshow 'coon': Unforgettable. (Bravo Mark Jones). Playing at the Malthouse March 6-28.
---
IT'S THE WORLD'S MOST LIVEABLE BOOK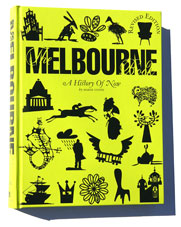 THE MELBOURNE BOOK BRAND NEW 2009 EDITION
Okay. So you think you know your city? Right. Charles Swanston. Why the main street for this man? The Manchester Unity Building. Built for ...the Oddfellows? And they were 'odd' because....? Rock Goddess Julia Zemiro has adopted this city as her own. Why? Don't you think you should know? Put your hands in the air and step away from that idiotic international meltdown, and come back to what matters. The future and sanity start right here, at home. Here's your chance to reconnect with a sense of place, a sense of meaning, and learn a little more about this town you are so lucky to live in.

'The Melbourne Book- A History of Now' first published in 2003, has just enjoyed its first major update. New hard cover, New chapters on Melbourne's street art and design culture, food and fashion... New tales from Melbourne's short but amazing history. New tales of Melbourne's physical, cultural, architectural, historical and mythical features. New photographs of this ever-changing city.

Over 700 photos, over 60 tales of the city. The must-have Melburnian's manual; it's the world's most liveable book. 368 pages, great value, $49.50.
It's all home grown, hand made, indy publishing, and made with love.
OUT NOW. You can get it here at melbournestyle in Clarendon St South Melbourne of course, (96968445) or at the Avenue Bookstore, Coventry Books, Domain Books, Hill of Content, Readings ... good bookshops everywhere.


---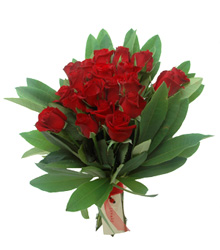 HOME GROWN
We love this new florist, PRICKLY PEAR - just opened in Port Melbourne. Fabulous window displays, fabulous flowers. People who really care about what they do and it shows. It's the kind of know how that makes the Garden State great. Would make Baron Von Mueller very proud. (Who? You obviously need The Melbourne Book).

---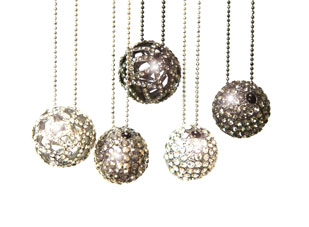 TOTALLY A-MEZI-ING
Aussie designers from Mezi have managed to bring us a range so delicious it is being eaten up! And encrusted as it is with Swarovski crystals you can well end up with sparkling teeth. Silver, smoke, saffron, lime, glinting in our window like a pirate's stash; flashing at your throat like a galaxy circling a nova. We promise you'll find similar elsewhere for a zilion times the price. Don't hesitate!

---
FIND US HERE
MAP re CBD

Closer MAP

---
That's it for now.
Stay gorgeous,
Ms MELBA x

tellmelba






---