MELBSTYLE MEDIA - REVIEWS

---
"Here is much more than a store, it is a history lesson, a celebration of all that is uniquely Victorian (including Ned Kelly), somewhere to lose yourself and delight in the sheer creativity on offer (tasteful creativeity, of course, in true Melbourne style). It makes souvenir places seem very tacky in comparison. On Clarendon Street South Melbourne, it's the first and only experience of its kind. A visit to Melbournestyle is a must do." - extract from RACV's 101 Best things to do in Victoria

---
"THIS MELBOURNE MECCA IS BANISHING THE CULTURAL CRINGE WITH ITS BEAUTIFUL AND UNIQUE INTERPRETATIONS OF AUSTRALIAN ICONOGRAPHY."


- HOME BEAUTIFUL magazine

---




"There are no flippant inclusions.Everything has a reason for being - a connection to Melbourne or Melbourne people who are doing something special."


- MELBOURNE LIVING Magazine, August 2009
Thanks to the fabulous people at Melbourne Living magazine for their tribute to our tribute to Melbourne.
---


That's right - THE New York Times paid us a visit. How did they find melbournestyle? These New Yorkers... they don't miss a trick! What did they find in store? For full article on melbourne click here NYT Style Magazine Totally Aussie in Melbourne or jump direct to the article DESIGN WITHIN REACH


---
"E' negozio e galleria questo spot avviato con successo dall'artista Maree Coote, specializzato esattamente nel Melbourne style: arte, moda e oggettistica, tutto disegnato e realizzato in citta."


- Review :Italia Blogosfere

---
We also had a visit from JAPAN-VIC.TOURISM Inbound Shopping Guide. This well-researched industry handbook is the ultimate resource for inbound Japanese tour operators, and features melbournestyle as its lead store, while its cover features our legendary Melbourne Cups and Saucers. They even named it after us! Domo Arigatoo Gozaimasu! (Not available to local Aussie shoppers - but you don't need it - you already know where we are, right? )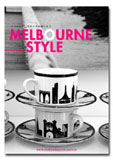 ---




Meanwhile, back here at home, since they first found us in Home Beautiful , the Home Beauties have visited time and again with their fab shoping tours (see below).
HOME BEAUTIFUL has listed melbournestyle in the legendary STYLE HUNTER Shopping Guide...So you can grab a copy (free with the latest issue) and visit us along with all the other top-shoppable spots in Melbourne in one go. Look forward to seeing you in your safari suits soon.
Thanks to the gorgeous gals at Home Beautiful - we are very chuffed to be included in their guide. See you soon.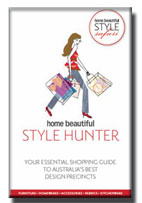 ---
melbournestyle is proud WINNER of Port Phillip Glen Eira Leader Business Acheiver Awards 2008Best Specialty Retailer Category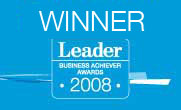 ....and finalist in the Melbourne Awards 2008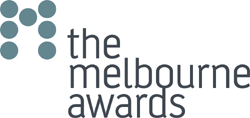 ...and finalist in Port Phillip Business Excellence Awards 2008.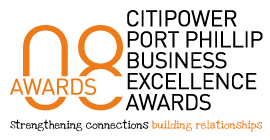 ...and previously - two Port Phillip Glen Eira Leader Business Acheiver Awards 2007 :
Best New Business Specialty Retailer Category
and
Best Business Under 50 Employees Category.



---
The PORT PHILLIP LEADER loves melbournestyle's Melbourne Cups too ...
---
"EVERYTHING IN THE GALLERY PLAYS ON MELBOURNE'S UNIQUE SENSE OF HUMOUR AND CULTURE THROUGH CLEVER OBJECTS."


melbournestyle's domestic sculpture was profiled here in the EMERALD HILL WEEKLY's Retail Therapy column - the tag of 'Arte-facts and fictions' being uncannily close to what we are all about!
---
Once more, THANKS to all who have helped bring our message of place, style, art and history to the wider world.
---
If you have some good news about Melbourne, email us and we'll post your news and /or links right here.
---

---



NEW AND FABULOUS IN THE CAPITAL CITY OF STYLE
---
"YOU HAVE BRAINS IN YOUR HEAD, YOU HAVE FEET IN YOUR SHOES. YOU CAN STEER YOURSELF ANY DIRECTION YOU CHOOSE". - Dr Seuss
---
HOLIDAY?
Just back from holiday and must say that travel in Asia always makes me appreciate the gutters, drains, median strips and curb and channel roadside glory of this gorgeous town of ours. And I drove to Richmond and back in 20 minutes, barely a car on the road, just a half hour after peak 9.30am today. Only in Melbourne.

---


TRAM JAM COASTERS - Commemmorate the great Tramways Union strike of January/February 1990, which saw Melbourne's major CBD grid streets jammed with stationary trams parked end-to-end in protest against the elimination of tram conductors. The protest lasted for a month. Ultimately, the city saved $24m per year on conductor salaries, but now loses $50m in fare evasion. Think about that over a cool drink on a stylish coaster when you (finally) get home. Coaster sets of 6 in double sided black/white. Here's to the Connies.
---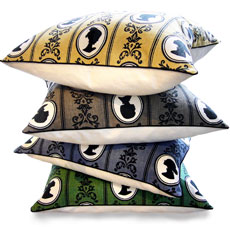 CAMEO ME
A whole new range of goodies in store from Emma Jay. Soft furnishings, softer furnishings, even flluffy furnishings. She's just another clever Melbourne gal. See MORE.
---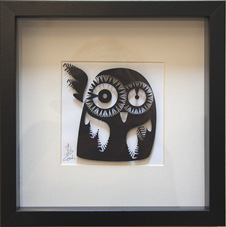 HOO NOO?
Come and see these intricate cutpaper artworks. Melbourne made, brand noo and exclusive to Melbournestyle. SEE MORE HERE
---
YOU KNOW YOU'RE FROM MELBOURNE IF...
That scallywag Catherine Deveny has knocked up a great list of 'things that say Melbourne'... dead giveways that you're from 'round these parts, like:

'You know you're from Melbourne if...
...You don't judge people on their looks, wealth or status, but on the bread they buy,
the coffee they serve and the newspaper they read.
...When you hear the word ''Bougainville'' you think of Northland.
...When someone says thanks you say " No Dromanas."
...When you meet someone from Kew, you always ask "Near Kew?"
...Jon Faine shits you but you can't switch him off. '

But our big fave at melbournestyle is: ...You think BeyondBlue does great work but you hate the way it makes Jeff Kennett look good. Which is depressing.

See the whole list of Catherine's 'Things that say you're from Melbourne' here.


---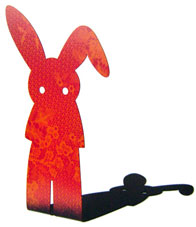 AND BACK HOME THEY'RE BREEDING LIKE RABBITS
Melbourne metalartist Peter Mclisky is a local boy making smiles for anyone whose spirits need a lift. These cheeky bunnies are forever joined to their own shadow. Use them as bookends, sculpture, jewellery stands, they wont mind. Various sizes from shelf to gigantic. Various colours from brilliant to basic black. Hop in and see them today.

---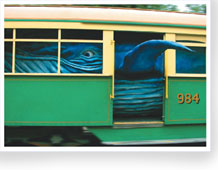 POSTCARDS FROM THE EDGE?
And what you need when on holidays is great postcards, so we have created a new range of gorgeous cards - a 10-Pack all about Melbourne. See more here...

---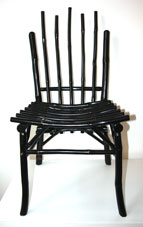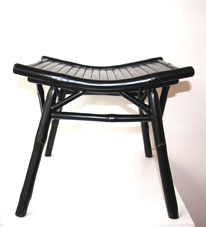 BAMBOO-zled?
Get ready for summer with some funky new bamboo voodoo: Chairs, stools, bags, in glossy red, black orange - come and see!

---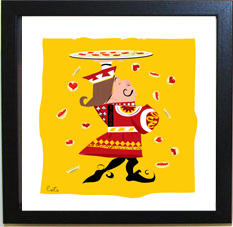 ALICE IN WONDERLAND IN MELBOURNE
Here's a whole new collection of Alice-ness: Ragpaper prints by Maree Coote, framed in a small but chic black timber box frame. See them all here

---

ELEFANTASY
Simply unforgettable.

---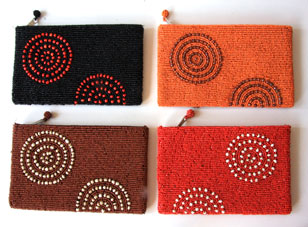 DOT GAIN
Colours of the outback, delicate beaded purses. Be quick.

---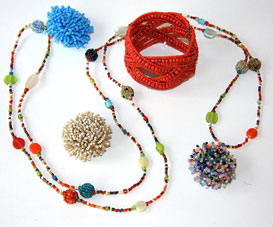 DOT DOT DOT...
Teeny dots of colour in rings, beads, necklaces. So pretty.

---


CERAMIC CLASSICS
Rinconada's Classic Collection was created by twin Spanish brothers Jesus and Javier Carbajales in Montevideo, Uruguay. Influenced by Picasso, Dali and Miro they hand carve each piece and detail in fine grain earthenware ceramic, accented in 18k gold and platinum. No bull.

---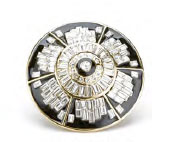 DON'T MISS OUT ON DECO-MANIA
Waaay back in the 1920s and 30s when things were getting bleaker, dollars getting tighter, Deco was the look of defiance in the face of it all. Well, what goes around comes around. This time the trinkets are even more beautiful. Melbournestyle has new range of CCSKYE in store. Including this fantastic new Deco story, - don't miss out.

---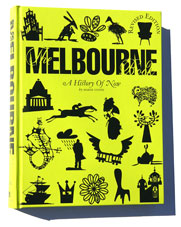 Everybody's loving THE WORLD'S MOST LIVEABLE BOOK
THE MELBOURNE BOOK BRAND NEW 2009 EDITION
Still the best book there is on Melbourne Town. OUT NOW $49.50, at melbournestyle, and good bookstores everywhere.

SEE the glittering BOOK LAUNCH .............. Or SEE MORE BOOK

---
FIND US HERE
MAP re CBD

Closer MAP

---
That's it for now.
Stay gorgeous,
Ms MELBA x

tellmelba






---