news


NEW AND FABULOUS IN THE CAPITAL CITY OF STYLE Share
Join our mailing list! Please CLICK HERE!
---
It's HERE! The ALL NEW 2010 edition of The MELBOURNE BOOK, A History of Now.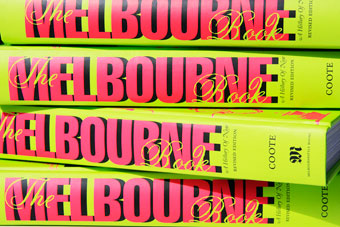 The NEW COVER design echoes the original, but signals a New Edition. NEW tales from Melbourne's short but amazing history. NEW photographs of this ever-changing city. NEW CELEBRITIES include Adam ELLIOT, Eddie PERFECT, Molly MELDRUM. NEW CHAPTERS include the story of pub rock and Countdown, of artist and expeditionist Ellis ROWAN, and a full biography of fashion designer Jenny BANNISTER. UPDATED CHAPTERS on the latest in Laneways,Trams, Flinders Street Station, Melb v Sydney, Melbourne Cup, Fashion, Vegemite, Weather, Le Louvre and more. Visual, passionate and informative, THE MELBOURNE BOOK is crammed with anecdotes and detail. With over 700 photos and 60 tales from past and present, author/photographer Maree Coote explores the city with an eye for the ordinary and the extraordinary. All of Melbourne's stories are here, from William Buckley to Dame Edna... Architecture, footy, fashion, horse-racing,weather and much more. It's the must-have Melburnian's manual; it's

STILL

the world's most liveable book. SEE MORE
---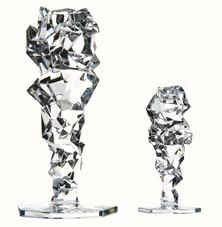 Designed by Arik levy, this startling crystal candelholder is named Kaz, after the famous mountain in the Aegean part of Turkey which looks like an iceberg. It's heavy, it's exquisite, it comes in 2 sizes (14cm tall and 23 cm tall) and its in store at Melbournestyle now. Big Pic
---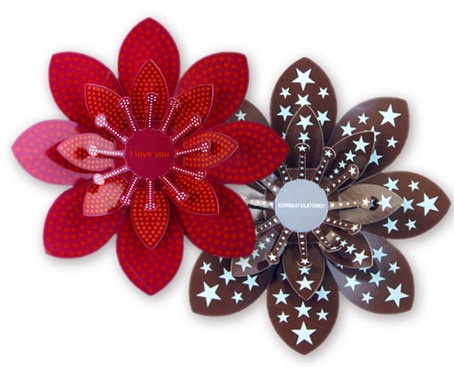 BLOOMS FOR THE GARDEN STATE
How perfect for Melburnians in winter - a bit of glorious colour for everyone. Designed by Artenica, these clever cards open up their petals to wish you a Happy Birthday, Thank You, I Love You or Merry Christmas. Folded up they tuck into a little envelope for gift giving...so sweet.
---
'A sense of place is a valuable thing. Cultivate that and you will grow roots.' - MC.

---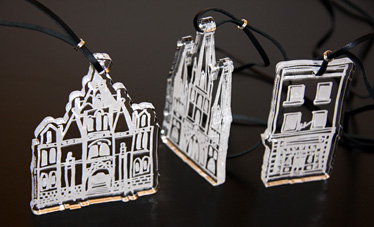 NEW - MELBOURNE BUILDINGS PENDANTS- Thick and chunky, just like Justin Madden. How many buildings will the Planning Minister unplan before there are no more left to inspire us?
Iconic chunks of gleaming perspex, embedded with sketches of Melbourne's landmarks: St Paul's Catherdral, the old Le Louvre on Collins (sob!), Manchester Unity Building, Old Magistrate's Court and lots more... all the biggies. Made by MelbournestyleSee more HERE
Or - do you want your own building made into a pendant gift? We can sketch you and etch you.... Great for corporates, housewarmings, anniversaries... Email us
---
"Patience is power; with time and patience the mulberry leaf becomes a silk scarf. " - Chinese Proverb.
---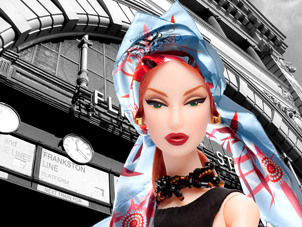 Jason Wu's FR Enigmatic wears Melbournestyle Scarf 'Red Galahs' at Flinders Street Station.
---
FREE SCARF?

If you missed THE LAUNCH, you missed out! CONGRATS to Naomi, winner of the lucky Business-card-in-the-bowl-Prize at the launch of The Melbourne Scarves! She was stunned but had the prescence of mind to select herself her favourite design - and she chose this one (Flower Map):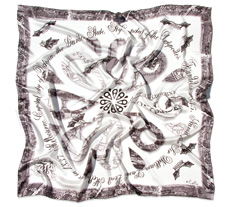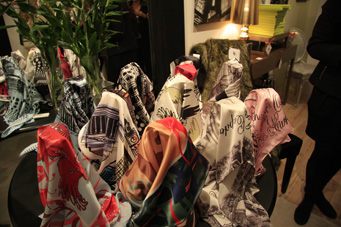 THE MELBOURNE SCARVES are instore now! A fabulous collection of limited edition silk scarves designed by Maree Coote for Melbournestyle. Featuring Melbourne themes and imagery, and a dozen designs to choose from. The ultimate colour statement for the Melburnian who loves to wear black.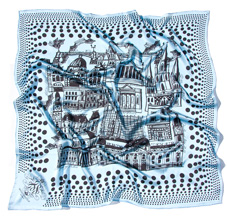 Melbournestyle Scarf 'Melbourne Buildings Dotty Blue'

Perfect for besotted locals who love their city, for out-of-towners who want to look back on their visit in style, the perfect high-status corporate gift, for civic-minded professional gals who need to be on-brief and for lovers of sheer silken luxury. Beautifully boxed, of course. You can see the collection

here

, but the real thing is luxurious, generous, sensual and has to be seen and touched to be fully appreciated.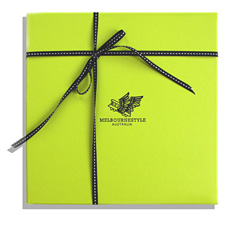 ---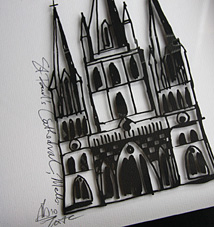 PAPER CUT ARTWORKS Handmade original artworks on the Melbourne buildings collection just arrived in store. See more here. $160

---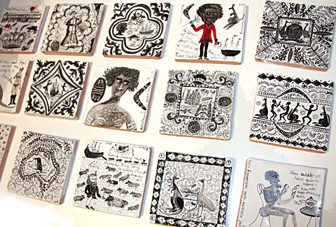 BERN EMMERICHS has just baked us a fresh batch of Melbourne historical ceramics. Hysterical as well, each one is a masterpiece. Original, and unique.

---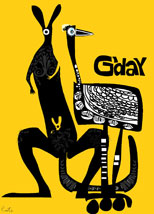 JUST WANTED TO SAY G'DAY. Again.
Postcard 10-Packs of various designs - great for gifts or for you to stay in touch. See more here... $12.50 for a pack of 10.

---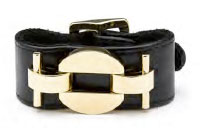 CC SKYE MAC CUFF... Looks sooo slick with a fabulous scarf from Melbournestyle... $195
---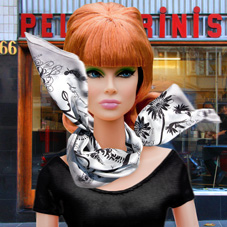 THANKS to the incredible Careless Love (pictured above at Pellegrini's in Bourke Street the other day) and FR Enigmatic for impeccable modelling; and to Jason Wu - Uber-master of fashion design for his team of absolute dolls. Find out all about them at

Integrity Toys

. Plastic fantastic.

---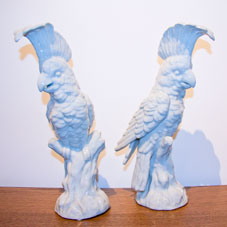 HELLO COCKY! Every home needs a pet, one you can talk to, one who will listen... perfect porcelain polly looks great solo or in a pack. This is how they look in Melbournestyle's Salon room...$160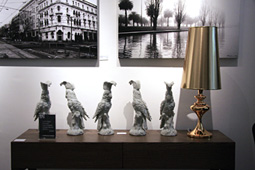 ---
Oooh...

Melbournestyle now has a prescence at

Tumblr.


and a MiniSHOP for those who like to click/buy at

Bigcartel.


but then it's pretty simple to just buy direct: simply email us
---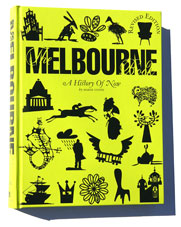 Everybody's loving THE WORLD'S MOST LIVEABLE BOOK
THE MELBOURNE BOOK - LATEST EDITION
Still the best book there is on Melbourne Town. OUT NOW $49.50, at Melbournestyle, and selling out fast!
SEE the glittering BOOK LAUNCH ..............
Or SEE MORE BOOK

---
buy now
---
FIND US HERE
MAP re CBD

Closer MAP

---
That's it for now.
Stay gorgeous,
Ms MELBA x


tellmelba
---
And if that's not enough culture for you in one hit, here's more.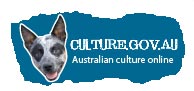 blog
@Tumblr
---