news


NEW AND FABULOUS IN THE CAPITAL CITY OF STYLE Share
Join our mailing list! Please CLICK HERE!
---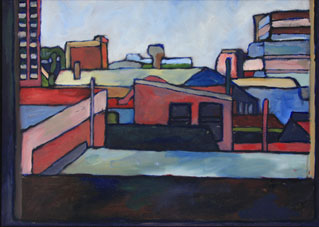 PAINTINGS BY GEORGE EUSTICE - These whimsical oil paintings
are a unique take on Melbourne. Exhibition opens October 18,
Gallery Upstairs at Melbournestyle.
View the exhibition online

HERE

and the Launch party

HERE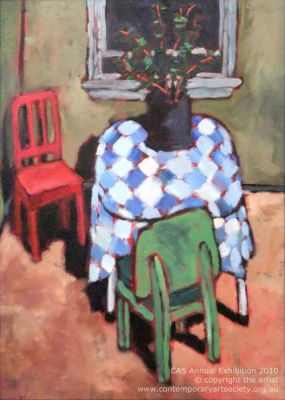 ---


OMG! OPRAH-According to The Age, (Sat.18/9/10 P.7 news) Melbournestyle's own Melbourne Scarves are the pefect gift for Oprah. And we agree of course. What better memento than 100% pure enourmous 97x97cm expanse of silk luxury, adorned with Melbourne's buildings or parks or flora and fauna? And let's not forget the one that really takes the cake: Melbourne's Famous women scarf called: The List...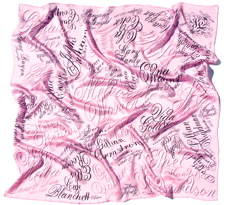 ---
AT LAST. THE THORN GLASS HAS ARRIVED- Crikey! What a wait. Sometimes it gets tortuous, bringing you the pretty things... Anyway it's here and its gorgeous. The black is like velvety jet black lava, the lemon, like a half sucked lolly. Ice blue, glassy green, amber and (late but hopefully soon to come) clear.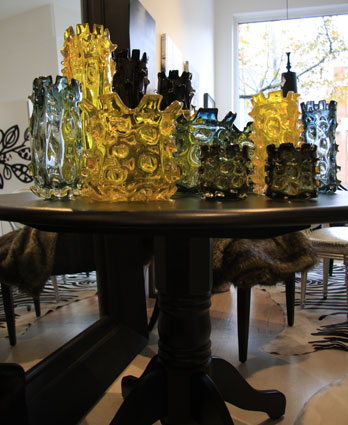 ---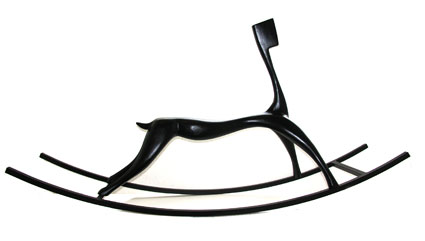 SINEW AND SILHOUETTE. Form and function. Horse and human. Bushranger and mount. Rock and roll. Could it be more beautiful? This exquisite rockinghorse is the work of Melbourne sculptor Rob Miller. Made for the artist's own daughter, it caught our eye at Melbournestyle... So, now it can be made just for you. Hand carved from cyprus and finished in Japan Black,it is strong enough to hold the weight of an adult, and beautiful enough to never be used. Approx 2m wide by 1m high. SEE MORE
---
"God help the Minister that meddles with art!"- Lord Melbourne, 1835.
(From Correspondence and Table-Talk, Volume 2 by Benjamin Robert Haydon 2008)

---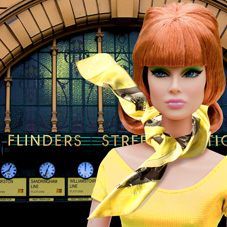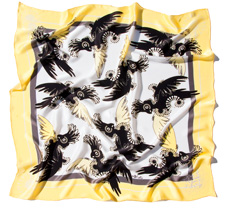 Jason Wu's FR Enigmatic wears Melbournestyle Scarf 'Yellow Galahs' at Flinders Street Station.
THE MELBOURNE SCARVES are instore now! A fabulous collection of limited edition silk scarves designed by Maree Coote for Melbournestyle. Featuring Melbourne themes and imagery, and a dozen designs to choose from. The ultimate colour statement for the Melburnian who loves to wear black. Beautifully boxed, of course. You can see the collection

here

, but the real thing is luxurious, generous, sensual and has to be seen and touched to be fully appreciated.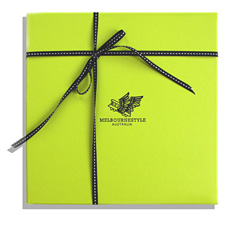 ---
It's HERE! The ALL NEW 2010 edition of The MELBOURNE BOOK, A History of Now.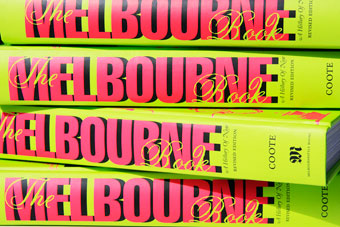 NEW tales from Melbourne's short but amazing history. NEW photographs of this ever-changing city. NEW CELEBRITIES include Adam ELLIOT, Eddie PERFECT, Molly MELDRUM. NEW CHAPTERS include the story of pub rock and Countdown, of artist and expeditionist Ellis ROWAN, and a full biography of fashion designer Jenny BANNISTER. UPDATED CHAPTERS on the latest in Laneways,Trams, Flinders Street Station, Melb v Sydney, Melbourne Cup, Fashion, Vegemite, Weather, Le Louvre and more. It's the must-have Melburnian's manual; it's STILL the world's most liveable book. SEE MORE
---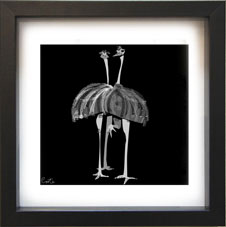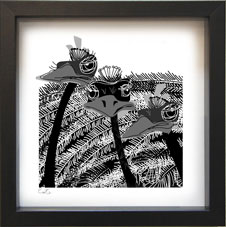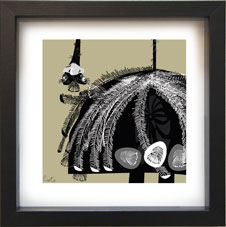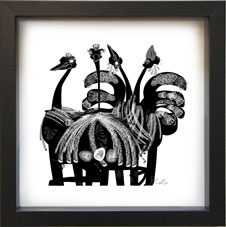 EMU Long-lashed and luscious, all fluff and flutter, Emus by are rendered in intricate detail and monotone schemes. Deep box frames. Even more here. $140

---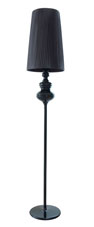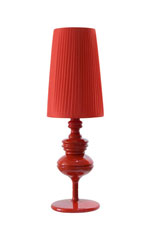 HOW CUTE ARE YOU? As cute as these lamps? Sure you are... just imagine, your best chair, a great book, and one of these guys by your side.... You ain't going nowhere, you're a picture. See the light here
---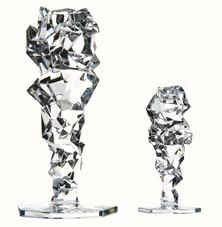 Designed by Arik levy, this startling crystal candelholder is named Kaz, after the famous mountain in the Aegean part of Turkey which looks like an iceberg. It's heavy, it's exquisite, it comes in 2 sizes (14cm tall and 23 cm tall) and its in store at Melbournestyle now. Big Pic
---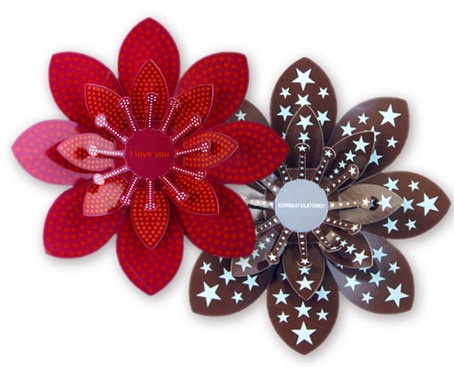 BLOOMS FOR THE GARDEN STATE
How perfect for Melburnians in SPRING - a bit of glorious colour for everyone. Designed by Artenica, these clever cards open up their petals to wish you a Happy Birthday, Thank You, I Love You or Merry Christmas. Folded up they tuck into a little envelope for gift giving...so sweet.
---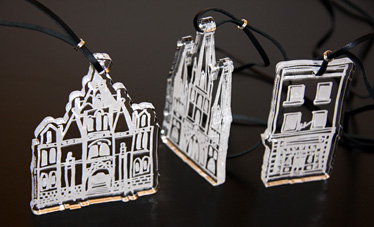 NEW - MELBOURNE BUILDINGS PENDANTS- Thick and chunky, just like Justin Madden. How many buildings will the Planning Minister unplan before there are no more left to inspire us?
Iconic chunks of gleaming perspex, embedded with sketches of Melbourne's landmarks: St Paul's Cathedral, the old Le Louvre on Collins (sob!), Manchester Unity Building, Old Magistrate's Court and lots more... all the biggies. Made by MelbournestyleSee more HERE
Or - do you want your own building made into a pendant gift? We can sketch you and etch you.... Great for corporates, housewarmings, anniversaries... Email us
---
PAPER CUT ARTWORKS Handmade original artworks on the Melbourne buildings collection just arrived in store. See more here. $160

---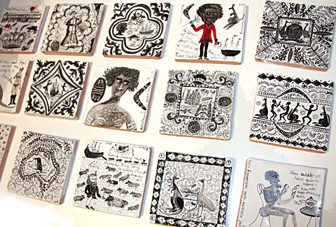 BERN EMMERICHS has just baked us a fresh batch of Melbourne historical ceramics. Hysterical as well, each one is a masterpiece. Original, and unique.

---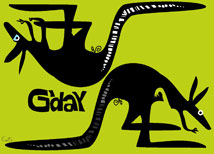 JUST WANTED TO SAY G'DAY. Again.
Postcard 10-Packs of various designs - great for gifts or for you to stay in touch. See more here... $12.50 for a pack of 10.

---
Oooh...

Melbournestyle now has a prescence at

Tumblr.


and a MiniSHOP for those who like to click/buy at

Bigcartel.


but then it's pretty simple to just buy direct: simply email us
---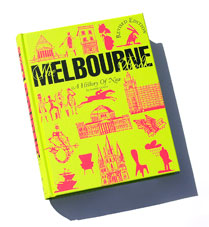 Everybody's loving THE WORLD'S MOST LIVEABLE BOOK
THE MELBOURNE BOOK - LATEST EDITION
Still the best book there is on Melbourne Town.
OUT NOW $55 at all good bookstores and at Melbournestyle of course.
SEE the glittering BOOK LAUNCH ..............
Or SEE MORE BOOK

---
buy now
---
FIND US HERE
MAP re CBD

Closer MAP

---
That's it for now.
Stay gorgeous,
Ms MELBA x


tellmelba
---
And if that's not enough culture for you in one hit, here's more.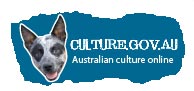 blog
@Tumblr
---