reviews


MELBSTYLE MEDIA - REVIEWS

---


That's right - THE New York Times paid us a visit. How did they find melbournestyle? These New Yorkers... they don't miss a trick! What did they find in store? For full article on melbourne click here NYT Style Magazine Totally Aussie in Melbourne or jump direct to the article DESIGN WITHIN REACH


---
COOL HUNTING IN NEW YORK!
"Dedicated to showcasing an array of Melburniana, founders Maree Coote and Lex Ridgeway offer a well-edited collection of products for the native and tourist alike. Spanning beautifully-packaged Melbourne map soaps and charming kangaroo chopstick rests to fashionable silk scarves and beaded baubles, the assortment represents some of the city's finest artists and designers."-
Coolhunting.com
---
"There is a time and place for a good souvenir. These really are the most interesting and well-designed souvenir-style gifts I have come across." - THE DESIGN FILES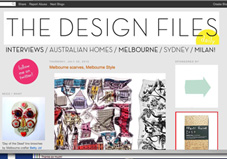 The Design Files (the webs' most gorgeous collection of information objects and style) has just featured Melbournestyle. We know once you taste The Design Files you'll be addicted!
---


"A great big love letter to Melbourne!"
In October 2010 interview with the Breakfasters on Melbourne's funkiest RRR FM radio Melbourne, author Maree Coote enjoyed 15 minutes chatting about the book with DJs Fee-B, Ben and Jess who declared The Melbourne Book 'a great big love letter to Melbourne!'
www.rrr.org.au
---




"IT'S AN ORIGINAL, WITH A STRONG SENSE OF PLACE AND ABOVE ALL, IT'S A STYLISH MOUTHPIECE FOR MELBOURNE."


RED MAGAZINE NOV 2010

---


OMG! OPRAH! According to The Age, (Sat.18/9/10 P.7 news) Melbournestyle's own Melbourne Scarves are the pefect gift for Oprah. And we agree of course.

---


"Here is much more than a store, it is a history lesson, a celebration of all that is uniquely Victorian (including Ned Kelly), somewhere to lose yourself and delight in the sheer creativity on offer (tasteful creativity, of course, in true Melbourne style). It makes souvenir places seem very tacky in comparison. On Clarendon Street South Melbourne, it's the first and only experience of its kind. A visit to Melbournestyle is a must do."
- Extract from RACV's 101 Best things to do in Victoria

---




"THIS MELBOURNE MECCA IS BANISHING THE CULTURAL CRINGE WITH ITS BEAUTIFUL AND UNIQUE INTERPRETATIONS OF AUSTRALIAN ICONOGRAPHY."


- HOME BEAUTIFUL magazine

---


"IF YOU LOVE THIS FABULOUS CITY OR ARE LOOKING FOR THE PERFECT SOUVENIR....."
- HOMESPUN magazine

---


"There are no flippant inclusions.Everything has a reason for being - a connection to Melbourne or Melbourne people who are doing something special."
- MELBOURNE LIVING Magazine, August 2009
Thanks to the fabulous people at Melbourne Living magazine for their tribute to our tribute to Melbourne.
---

"E' negozio e galleria questo spot avviato con successo dall'artista Maree Coote, specializzato esattamente nel Melbourne style: arte, moda e oggettistica, tutto disegnato e realizzato in citta."
- Review :Italia Blogosfere

---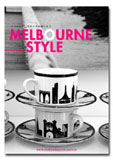 We also had a visit from JAPAN-VIC.TOURISM Inbound Shopping Guide. This well-researched industry handbook is the ultimate resource for inbound Japanese tour operators, and features melbournestyle as its lead store, while its cover features our legendary Melbourne Cups and Saucers. They even named it after us! Domo Arigatoo Gozaimasu! (Not available to local Aussie shoppers - but you don't need it - you already know where we are, right? )

---




Meanwhile, back here at home, since they first found us in Home Beautiful , the Home Beauties have visited time and again with their fab shoping tours (see below).
HOME BEAUTIFUL has listed melbournestyle in the legendary STYLE HUNTER Shopping Guide...So you can grab a copy (free with the latest issue) and visit us along with all the other top-shoppable spots in Melbourne in one go. Look forward to seeing you in your safari suits soon.
Thanks to the gorgeous gals at Home Beautiful - we are very chuffed to be included in their guide. See you soon.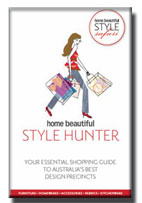 ---
INSIDE MELBOURNESTYLE...
This is what you're missing.... Come in soon!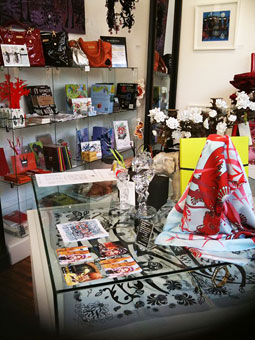 ---
Melbournestyle is proud to be:
2010 FINALIST, Creative Industries
PORT PHILLIP BUSINESS EXCELLENCE AWARDS



2008 BEST Specialty Retailer Category
Port Phillip Glen Eira Leader Business Acheiver Awards 2008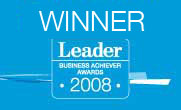 2008 FINALIST The Melbourne Awards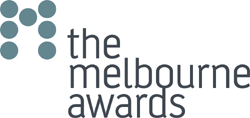 2008 FINALIST Port Phillip Business Excellence Awards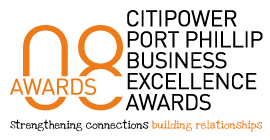 2007 WINNER Best New Business Specialty Retailer Category, Leader Business Acheiver Awards

2007 WINNER Best Business Under 50 Employees Category, Leader Business Acheiver Awards.

---
The PORT PHILLIP LEADER features Melbournestyle's Melbourne Cups too ...
---
"EVERYTHING IN THE GALLERY PLAYS ON MELBOURNE'S UNIQUE SENSE OF HUMOUR AND CULTURE THROUGH CLEVER OBJECTS."


melbournestyle's domestic sculpture was profiled here in the EMERALD HILL WEEKLY's Retail Therapy column - the tag of 'Arte-facts and fictions' being uncannily close to what we are all about!
---
Once more, THANKS to all who have helped bring our message of place, style, art and history to the wider world.
---
If you have some good news about Melbourne, email us and we'll post your news and /or links right here.
---

---
news

NEW AND FABULOUS IN THE CAPITAL CITY OF STYLE
Share
---
Join our mailing list! Please CLICK HERE!
---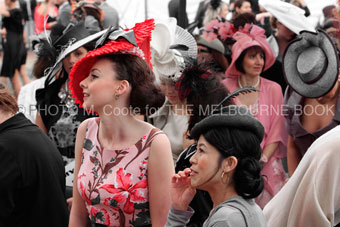 Another racing season over, another zillion beautiful girls pack it up for a year. The weather gave us drama and goosebumps. But I kinda miss the gals parading in the open air between the Members and the Track. Like some blithely disconnected continuum of colour, up steps, across and down steps, running like a beautiful rivulet through an otherwise traffic-jammed or race-riveted crowd.
---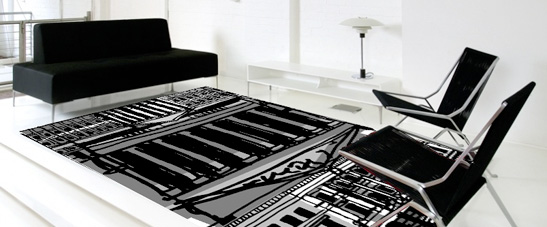 RUGS by MELBOURNESTYLE - new designs in rugs created by Maree Coote tor Melbournestyle. Featuring Melbourne architecture and other local historic and natural themes, they let you walk all over the city without leaving the lounge room. Contact us for more RUGS information HERE.
---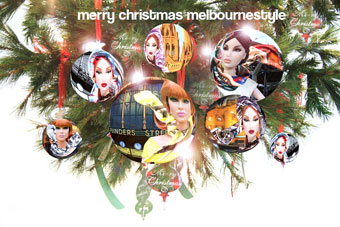 HANGING CHRISTMAS TREE - PERFECT for small apartments or large dinner tables, this Chandelier style Christmas tree keeps the mistletoe overhead. Only a few left, so be quick.
---



WHAT A DISH - Dessert, nuts, sweets, aromatics... these are super inexpensive bowls to lift any table setting. Great for Christmas. Black: set of 6 $150, or $28.50 each.Crystal Clear: set of 6 $140 or $25 each. HERE
---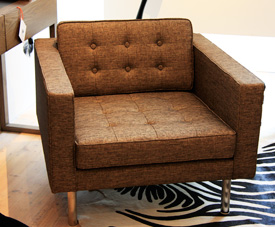 COOL ROOM These armcahirs are brown and tan,with flecks of black and honey. So retro, but beautifully tailored and brand spanking new.

---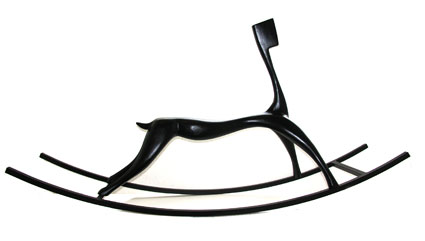 SINEW AND SILHOUETTE. Form and function. Horse and human. Bushranger and mount. Rock and roll. Could it be more beautiful? This exquisite rockinghorse is the work of Melbourne sculptor Rob Miller. Made for the artist's own daughter, it caught our eye at Melbournestyle... So, now it can be made just for you. Hand carved from cyprus and finished in Japan Black,it is strong enough to hold the weight of an adult, and beautiful enough to never be used. Approx 2m wide by 1m high. SEE MORE
---
"God help the Minister that meddles with art!"- Lord Melbourne, 1835.
(From Correspondence and Table-Talk, Volume 2 by Benjamin Robert Haydon 2008)

---
It's HERE! The ALL NEW 2010 edition of The MELBOURNE BOOK, A History of Now.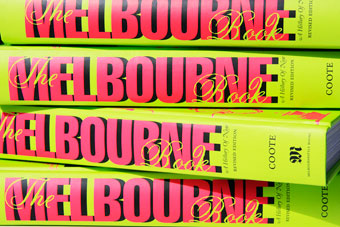 NEW tales from Melbourne's short but amazing history. NEW photographs of this ever-changing city. NEW CELEBRITIES include Adam ELLIOT, Eddie PERFECT, Molly MELDRUM. NEW CHAPTERS include the story of pub rock and Countdown, of artist and expeditionist Ellis ROWAN, and a full biography of fashion designer Jenny BANNISTER. UPDATED CHAPTERS on the latest in Laneways,Trams, Flinders Street Station, Melb v Sydney, Melbourne Cup, Fashion, Vegemite, Weather, Le Louvre and more. It's the must-have Melburnian's manual; it's STILL the world's most liveable book. SEE MORE
---
JUST WANTED TO SAY G'DAY. Again.
Postcard 10-Packs of various designs - great for gifts or for you to stay in touch. See more here... $12.50 for a pack of 10.

---
Oooh...

Melbournestyle now has a prescence at

Tumblr.


and a MiniSHOP for those who like to click/buy at

Bigcartel.


but then it's pretty simple to just buy direct: simply email us
---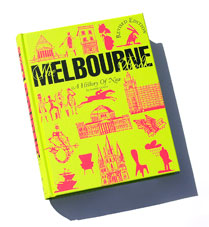 Everybody's loving THE WORLD'S MOST LIVEABLE BOOK
THE MELBOURNE BOOK - LATEST EDITION
Still the best book there is on Melbourne Town.
OUT NOW $55 at all good bookstores and at Melbournestyle of course.
SEE the glittering BOOK LAUNCH ..............
Or SEE MORE BOOK

---
buy now
---
FIND US HERE
MAP re CBD

Closer MAP

---
That's it for now.
Stay gorgeous,
Ms MELBA x


tellmelba
---
And if that's not enough culture for you in one hit, here's more.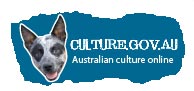 blog
@Tumblr
---