news:blog
WHAT'S NEW, MELBOURNESTYLE
---
Join our mailing list! CLICK HERE!

............................................

Share
---
The Art of Being Melbourne


SEE THE LAUNCH - Launched by the HON. STEVE BRACKS AC,
and Tim Abdallah, Head of Art, Menzies Art Brands,
on 7th March 2012 at Flinders Lane Gallery Melbourne.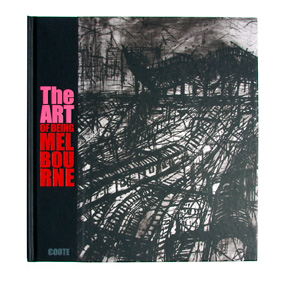 This stunning new book The Art Of Being Melbourne by Maree Coote tracks the Melbourne zeitgeist across 20 decades of art to reveal a truly unique portrait of the city. MORE ABOUT THIS NEW BOOK HERE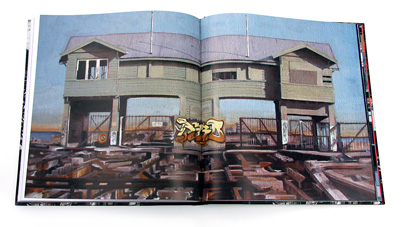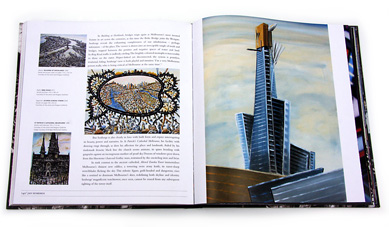 ---
NEW ART PRIZE


Melbournestyle is proud to announce a brand new art prize -
THE ART OF BEING MELBOURNE PRIZE - For works produced on a Melbourne theme. Stay tuned for more news on this exciting new prize and upcoming exhibitions. Open to amateur and professional artists alike.
To enter, please make application here:
THE ART OF BEING MELBOURNE Art Prize, at MELBOURNESTYLE. Entries close June 30 2012.
Everyone is welcome!
---
city colour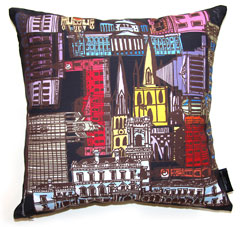 New to the Melbourne Cushions collection is this brilliant colour print. Includes Government House, Supreme Court and other new buildings drawn by Maree Coote for Melbournestyle. Cuddle up - and hang on tight, 'cos we are collecting them all just in case they fall foul of future planning ministers. More HERE...

---
thousand year eggs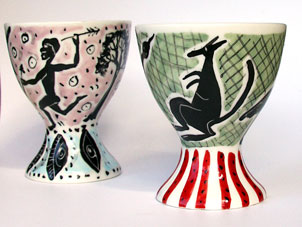 Hand-painted by the brilliant Bern Emmerichs, these egg cups tell tales of ancient aboriginal gorgeousness. Think on that while you dip your toasty soldiers...MORE


---
antipodean coaster eggs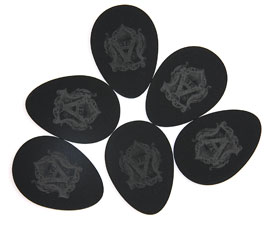 Matt-black frosted acrylic these velvety egg shaped silhouettes make fab coasters. Engraved with an Antipodean Crest. Colonial-chic, post-modern cool. MORE

---
paper trams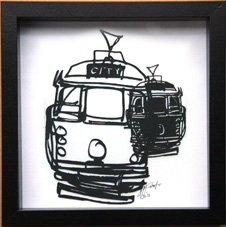 Like ships in the night, Melbourne's trams pass each other as they rattle across the grid. Fot the past 127 years they've travelled their endless loop. In our throw-away world, they are one wonderful thing that endures. These cut-paper artworks by Maree Coote are a tribute to the charm and efficiency set in place such a long time ago. MORE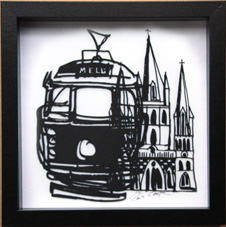 ---
repatriate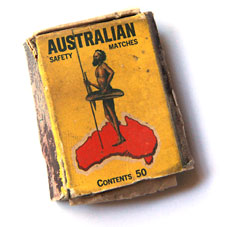 According to trend forecaster Gerald Celente it's time to get local and abandon the global. If heading toward a recession/depression, and when things get crazy and beyond your control, Gerald says the best thing to do is bring things home to where you can impact them, and focus on the local. Trade local, make local, buy local, rebuild local. There are nearly 23 million Australians, and Melbournestyle has a story or a beautiful, original, meaningful piece of design for every one.
---
Melbournestyle recommends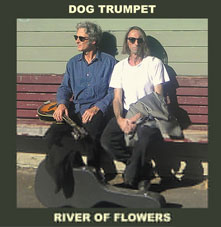 If you have missed this CD, it's the happiest, sweetest package we've heard in along time. Great memories of Her Majesty's Pub South Yarra and 'Torchy and the Battery Boys' billing. These formative seeds of The Mentals - brothers Chris and Peter O'Doherty - will charm their way into your ear buds all over again.
---
Save Aireys Inlet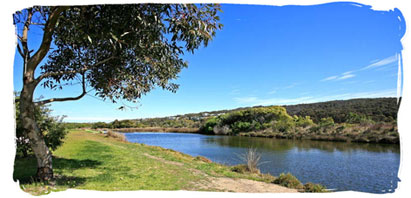 Save beautiful Aireys Inlet from bitumen, bulldust, bikepaths and bankruptcy. Stop the Surf Coast Shire from paving paradise!!
SAVE AIREYS INLET
---
Molly's bump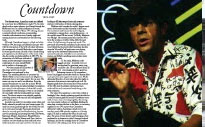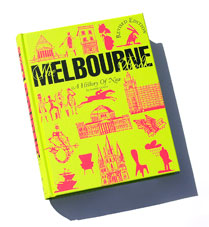 The Melbourne Book includes (among its many chapters and stories of Melbourne's history and contemporay culture) the complete story of Molly Meldrum and Countdown of course, including a great shot of Molly and Madge. Naturally we were very concerned about his welfare after his recent fall. After all the great times he delivered to us, let's all do him a favour and cross fingers for a quick recovery.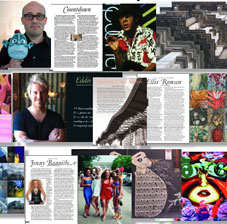 ---
the leafy seadragon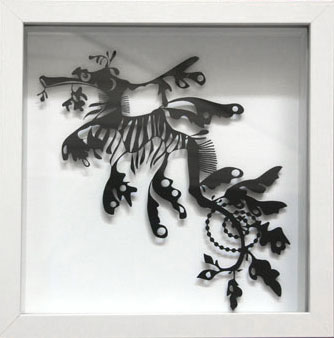 NEW in our Cutpaper Art series, this incredible little creature is a pipe fish, the Leafy Seadragon. He and his cousin the Weedy Seadragon are Victorian State Emblems and have to be seen up close to be believed. This design, by Maree Coote for Melbournestyle, is cut from black paper and framed in white. MORE HERE
---
MADE BY MELBOURNESTYLE


the Melbourne cushions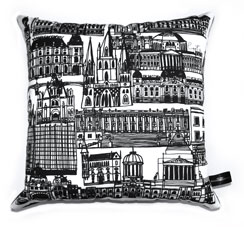 Connect with your roots, learn a bit about your city...
There's still a soft landing out there if we protect the best in this beautiful city of ours. Finding meaning in Melbourne's history, Maree Coote has explored another city block - this time a soft, comfy stylish city block to snuggle up to. It's all there in Black and White, $95

.
NEW cushion collection made in Melbourne.


Made by Melbournestyle
---
Time to relive the Jazz Age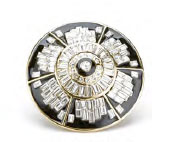 In the 20s and 30s, even the Depression couldn't stop great design, great music and happy happy dancing. So here's to a Jazz Age recovery, led by art, music and meaningful, quality design.
---
the Melbourne placemats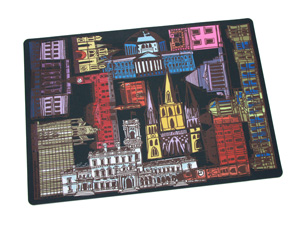 Here's how to dine in the best addresses in Melbourne without leaving home. Stylish extra-large placemat featuring Melbourne's finest buildings, $15 each.
NEW tabletop goodies collection
made in Melbourne.

Made by Melbournestyle
---
learn from history


America's middle class is disappearing. Is Australia's to follow?

"...the middle class produces civilisation because it is the only class constantly trained to come to a conclusion, poised as it is between depth and height. It is not rich enough to have everything, nor poor enough to have nothing - and has to choose between a succulent table and a fine library, between travel and a flat in town, between a car and a new baby, or fur coat and a ball dress: it has enough of the superfluous to give it freedom from necessity, but only through the constant use of discrimination: its life is therefore one long training of the judgement and the will. This by itself will not manufacture greatness; but it is the soil in which it is possible to make it grow. And for this reason, when the rich become too rich and the poor too poor, and fewer and fewer people live under the constant discipline of their decisions, the age of greatness withers."

......

- Freya Stark 'The Lycian Shore', 1956.




---
the Melbourne review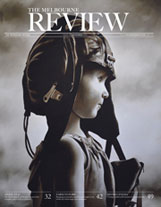 Quality writing on the Arts, culture and ideas...
A perfect match for Melbournestyle, this stylish smart-talker is very welcome after the gradual and almost complete decimation of our local newspaper touchstones. Congrats to Luke Stegeman and his team. We are thrilled to be there in Edition Two, read on...
---
the G'DAY series coasters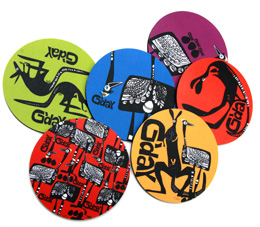 Perfect protection for your surfaces and eliminates the jarring clang of glass-on-glass at the coffee table. These neoprene backed vibrant G'DAY series coasters will break the ice. A set of 6 is only $30.
Featuring the Emu & Roo of the G'DAY series, these whacky originals are designed and made in Melbourne by Melbournestyle.
---
sa ding ding

We've said this before... A cross between Kate Bush and Bjork,
Sa Dingding is a beautiful new colour in the landscape. She brings culture, texture, richness, madness, and a whole new perspective. She sings in a mix of Mandarin, Cantonese, Burmese and Sanskrit, with a bit of nonsense thrown in. Have a look and a listen to ALIVE Click Here
---
fabulous, Minikem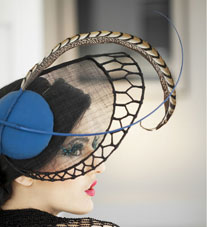 WRAPPING UP: Emily Makris' delicious deco-noir hats were a huge success - a sellout show made this Melb Cup season far more beautiful than it would otherwise have been. Looking forward to seeing more designs next year from this exciting young Melbourne milliner.

---
myth & floklore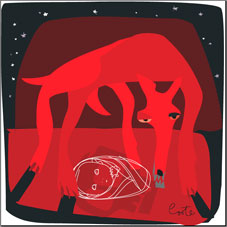 NOW ON: Currently featuring works by Maree Coote. Featuring the Azaria series. Coote explores the making of myth and folklore, notions of innocence and evil. Gallery Upstairs at Melbournestyle.
---
mellow Melbourne yellow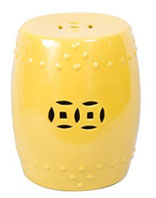 Goes great with black and white - is climate change-proof so you can leave it on the deck in the rain. It comes in this fabulous yellow- the happiest of colours, $275.



Don't forget the Tsunami...


... and our friends in Japan. It's been a long time between Sakes, but Melbournestyle owes much to Japan. We have been blessed by treasured Japanese friends, exquisite Japanese design, unforgettable Japanese travel, lifechanging Japanese insights, even our brand name is inspired by very special Japanese friends. Let's not even mention the world's best cuisine. So now's our chance to give back to our much-loved Japanese friends in their time of need. You can too - if you can help Japan, click here or go to your Commonwealth bank to donate. Doomo Arigatoo...Ki wo tsukete, minna san.


---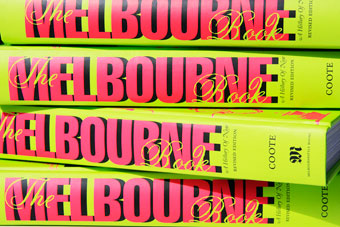 And let's not forget the LATEST edition of The MELBOURNE BOOK, A History of Now. Just $55. Made by Melbournestyle.
NEW tales from Melbourne's short but amazing history. NEW photographs of this ever-changing city. NEW CELEBRITIES include Adam ELLIOT, Eddie PERFECT, Molly MELDRUM. NEW CHAPTERS include the story of pub rock and Countdown, of artist and expeditionist Ellis ROWAN, and a full biography of fashion designer Jenny BANNISTER. UPDATED CHAPTERS on the latest in Laneways,Trams, Flinders Street Station, Melb v Sydney, Melbourne Cup, Fashion, Vegemite, Weather, Le Louvre and more. It's the must-have Melburnian's manual; it's STILL THE WORLD'S MOST LIVEABLE BOOK
THE MELBOURNE BOOK - LATEST EDITION
Still the best book there is on Melbourne Town.
OUT NOW $55 at all good bookstores and at Melbournestyle of course.
SEE the glittering BOOK LAUNCH ..............
Or SEE MORE BOOK


Made by Melbournestyle
---
---
FIND US HERE
MAP re CBD

Closer MAP

---
That's it for now.
Stay gorgeous,
Ms MELBA x


tellmelba
---
And if that's not enough culture for you in one hit, here's more.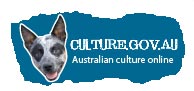 ---
Melbournestyle also on