reviews
WHAT THEY SAY ABOUT MELBOURNESTYLE
---
---
OUR FAVOURITE MEDIA ITEM



2007: That's right - THE New York Times paid us a visit. How did they find Melbournestyle? These New Yorkers... they don't miss a trick!
What did they find in store? For full article on Melbourne click here:
NYT Style Magazine Totally Aussie in Melbourne
or jump direct to the article DESIGN WITHIN REACH - we're item 5!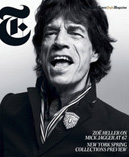 ---



APRIL 27,2013: The Saturday Age Life&Style's Mary O'Brien interviews Melbournestyle author and artist Maree Coote in My Secret Melbourne.
---

---
Melbournestyle taken to the world!


MARCH, 2013: BS JAPAN TV filmed a segment at Melbournestyle, as part of their TV Special on Australia and Melbourne entitled: Travelling Through Magnificent Scenery which went to air in Japan w/c March 12, 2013. We were beamed into over 30,000.000 homes in Japan! Yes, that's the correct figure! How exciting! Melbournestyle is so thrilled to be the only retailer featured in this entire program! What a privilege and an honour. Thanks to Oceapro Films for finding us. The crew were wonderful. Doomo arigatoo gozaimasu.

---



MARCH, 2013: The Cityof Melbourne interviews Maree Coote, at the launch of her new children's book, 'When You Go To Melbourne' at Melbournestyle Gallery.
---


MAR, 2013: Melbourne Observer reviews Melbournestyle Books' new title:
WHEN YOU GO TO MELBOURNE. Big thanks to the marvellous Di Rolle for her interest and support.

---
JAN, 2013:

The Little Bookroom

has devoted their window to Melbournestyle Books' new title:
WHEN YOU GO TO MELBOURNE by Maree Coote,
and the wonderful Jess has created this knockout window for the
Degraves Street store inspired by our book. Thanks to Leesa and her team at LBR!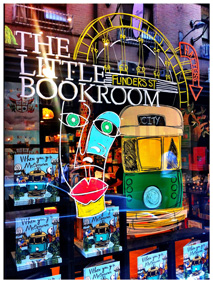 ---


Thanks to The Age - 'Bookmarks' for their acknowledgement of Melbournestyle's latest publication, THE ART OF BEING MELBOURNE, and its recent award.
"CONGRATULATIONS to Maree Coote, who has won the major prize in the Victorian Community History Awards for her book The Art of Being Melbourne, which chronicles in a beautiful and original way the development and history of Melbourne over 200 years or so via its representation in art." - Jason Steger, The Age, 27 October, 2012.
The title won the Royal Historical Society of Victoria's 2012 Community History Award, generously funded by the Public Records Office of Victoria. And again in:



The book "chronicles in a beautiful and original way the development and history of Melbourne over 200 years...via its representation in art." - Bookmarks, Oct 27, 2012.
---


MAY 2012: 05.03.12 The Melbourne Book author, Maree Coote returns to Breakfasters to chat about her newest book about the city, The Art of Being Melbourne. Maree shares her experience of putting together the book, which features portraits of Melbourne's urban spaces and makes an argument for what she considers Melbourne's most iconic landmark.
Listen to RRR interview here
---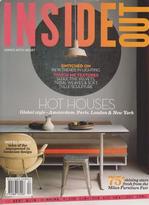 IN THIS ISSUE, a review of Maree Coote's new book: 'The Art of Being Melbourne'. "A flick-through gallery that not only charts the tone and progress of the southern capital but spins the history with fresh perspective. Stroll its streets, get caught in its rain, take its trams and dip your toe in its bay via brush and canvas. Moody, marvellous informative."
---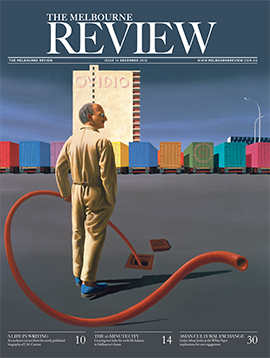 IN THIS ISSUE, Melbourne writers including Maree Coote contribute their suggestions for Christmas and New Year reading.
---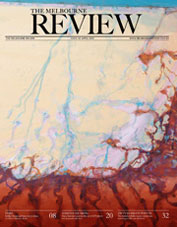 THIS ISSUE Excerpt from The Art of Being Melbourne by Maree Coote.
---


JANUARY 2012: Megan Backouse of The Age reviews Melbournestyle and interviews Maree Coote.
Life & Style ARTS 28Jan 2012
---
WOMAN'S DAY:: Dec 2011



...features Melbournestyle and the French Bull Platters...
Thanks Style File and Womans Day!
---
THE MELBOURNE REVIEW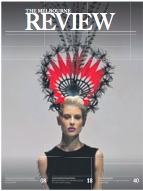 is a brilliant addition to Melbourne's landscape. We are thrilled to be there in Edition Two, read on...
---
MARIE CLAIRE ITALIA says Si!
to The Melbourne Book by Melbournestyle Books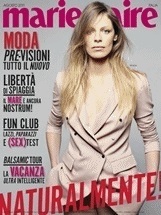 Marie Claire Italia, which is, like, the best of French and the best of Italian, says The Melbourne Book, by Melbournestyle Books, is the best read you can get on Melbourne. Well, we say the same thing - how about that? read on...
---
JAPAN AIRLINES REVIEWS MELBOURNESTYLE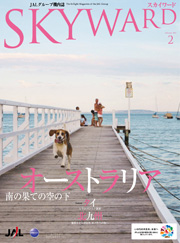 Skyward, Japan Airline's inflight magazine, focusses on Australia. This stylish look at what makes Australia so enticing includes Melbournestyle and the delights of our home grown city-centric design. Domo arigato, JAL! See it here
---
INSIDEOUT gets inside Melbournestyle!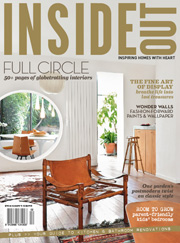 Australia's own style bible chooses the Melbourne Scarves as Editors Choice: "A City souvenir has rarely looked so smart!" See it here
---
COOL HUNTING IN NEW YORK!
"Dedicated to showcasing an array of Melburniana, founders Maree Coote and Lex Ridgeway offer a well-edited collection of products for the native and tourist alike. Spanning beautifully-packaged Melbourne map soaps and charming kangaroo chopstick rests to fashionable silk scarves and beaded baubles, the assortment represents some of the city's finest artists and designers."-
Coolhunting.com
---
"There is a time and place for a good souvenir. These really are the most interesting and well-designed souvenir-style gifts I have come across." - THE DESIGN FILES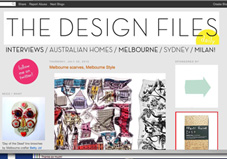 The Design Files (the webs' most gorgeous collection of information objects and style) has just featured Melbournestyle. We know once you taste The Design Files you'll be addicted!
---


"A great big love letter to Melbourne!"
In October 2010 interview with the Breakfasters on Melbourne's funkiest RRR FM radio Melbourne, author Maree Coote enjoyed 15 minutes chatting about the book with DJs Fee-B, Ben and Jess who declared The Melbourne Book 'a great big love letter to Melbourne!'
PODCAST here.
---




"IT'S AN ORIGINAL, WITH A STRONG SENSE OF PLACE AND ABOVE ALL, IT'S A STYLISH MOUTHPIECE FOR MELBOURNE."


RED MAGAZINE NOV 2010

---


OMG! OPRAH! According to The Age, (Sat.18/9/10 P.7 news) Melbournestyle's own Melbourne Scarves are the pefect gift for Oprah. And we agree of course.
And so we went to Dinner with Oprah's peeps: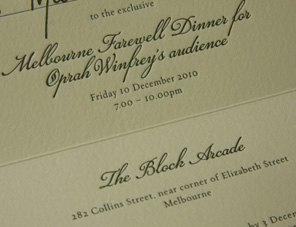 More Oprah here...
---


"Here is much more than a store, it is a history lesson, a celebration of all that is uniquely Victorian (including Ned Kelly), somewhere to lose yourself and delight in the sheer creativity on offer (tasteful creativity, of course, in true Melbourne style). It makes souvenir places seem very tacky in comparison. On Clarendon Street South Melbourne, it's the first and only experience of its kind. A visit to Melbournestyle is a must do."
- Extract from RACV's 101 Best things to do in Victoria

---




"THIS MELBOURNE MECCA IS BANISHING THE CULTURAL CRINGE WITH ITS BEAUTIFUL AND UNIQUE INTERPRETATIONS OF AUSTRALIAN ICONOGRAPHY."


- HOME BEAUTIFUL magazine

---


"IF YOU LOVE THIS FABULOUS CITY OR ARE LOOKING FOR THE PERFECT SOUVENIR....."
- HOMESPUN magazine

---


"There are no flippant inclusions.Everything has a reason for being - a connection to Melbourne or Melbourne people who are doing something special."
- MELBOURNE LIVING Magazine, August 2009
Thanks to the fabulous people at Melbourne Living magazine for their tribute to our tribute to Melbourne.
---

"E' negozio e galleria questo spot avviato con successo dall'artista Maree Coote, specializzato esattamente nel Melbourne style: arte, moda e oggettistica, tutto disegnato e realizzato in citta."
- Review :Italia Blogosfere

---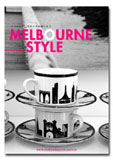 We also had a visit from JAPAN-VIC.TOURISM Inbound Shopping Guide. This well-researched industry handbook is the ultimate resource for inbound Japanese tour operators, and features melbournestyle as its lead store, while its cover features our legendary Melbourne Cups and Saucers. They even named it after us! Domo Arigatoo Gozaimasu! (Not available to local Aussie shoppers - but you don't need it - you already know where we are, right? )

---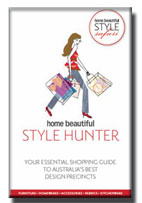 Meanwhile, back here at home, since they first found us in Home Beautiful , the Home Beauties have visited time and again with their fab shoping tours (see below).
HOME BEAUTIFUL has listed melbournestyle in the legendary STYLE HUNTER Shopping Guide...So you can grab a copy (free with the latest issue) and visit us along with all the other top-shoppable spots in Melbourne in one go. Look forward to seeing you in your safari suits soon.
Thanks to the gorgeous gals at Home Beautiful - we are very chuffed to be included in their guide. See you soon.

---


Triple R Sponsor

---
SEE INSIDE MELBOURNESTYLE
VIRTUAL VISIT US here!
---

2010 FINALIST, Creative Industries
PORT PHILLIP BUSINESS EXCELLENCE AWARDS



2008 BEST Specialty Retailer Category
Port Phillip Glen Eira Leader Business Acheiver Awards 2008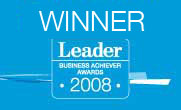 2008 FINALIST The Melbourne Awards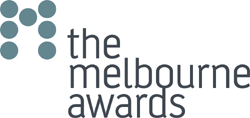 2008 FINALIST Port Phillip Business Excellence Awards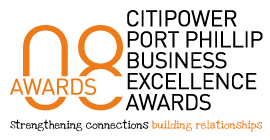 2007 WINNER Best New Business Specialty Retailer Category, Leader Business Acheiver Awards

2007 WINNER Best Business Under 50 Employees Category, Leader Business Acheiver Awards.

---
The PORT PHILLIP LEADER features Melbournestyle's Melbourne Cups too ...
---
"EVERYTHING IN THE GALLERY PLAYS ON MELBOURNE'S UNIQUE SENSE OF HUMOUR AND CULTURE THROUGH CLEVER OBJECTS."


melbournestyle's domestic sculpture was profiled here in the EMERALD HILL WEEKLY's Retail Therapy column - the tag of 'Arte-facts and fictions' being uncannily close to what we are all about!
---
Once more, THANKS to all who have helped bring our message of place, style, art and history to the wider world.
---
If you have some good news about Melbourne, email us and we'll post your news and /or links right here.
---

---
news:blog
WHAT'S NEW, MELBOURNESTYLE
---
---
inspirational teachers


The BEST thing about giving a talk at the marvellous Mornington Peninsula Art Gallery is meeting up with your long lost High School Art Teachers. At last a chance to say thanks to the fabulous Mr and Mrs Cocking, legends of the 1960s and 70s Mordialloc-Chelsea High School campus, and inspirations to me and many others. Together they made Art Appreciation groovy, and Art Prac very cool. Thanks for such great years. The Art of Being Melbourne started in your classroom all those years ago.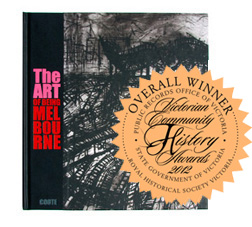 ---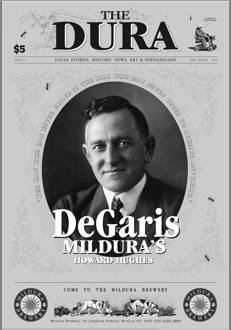 And here's a rare voice in a sea of bland generality... The Dura is Mildura's newest newspaper, edited by the very real Harry Rekas. As Harry says:
The Dura is Sunraysia's brand new A3 black & white collectable print publication. A quality cheeky quarterly extravaganza ­ The Dura is a celebration of Sunraysia's imagination and creativity, filled with historical tales of intrigue and wonder... and stained with a touch of satire.
Congrats to Harry...Here's the link: DURA
---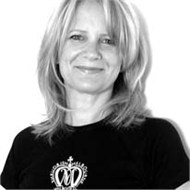 FRIENDS' COFFEE MORNING: THE ART OF BEING MELBOURNE


Mon, 22 July 2013
Maree Coote is passionate about a sense of place and history, and in 2000 published her first book The Melbourne Book: A History of Now. In her recent RHSV award-winning book of 2012, The Art of Being Melbourne, Maree has created a clever history of Melbourne as seen through artworks of Melbourne's urban landscape.
Monday 22 July, 10.30am-12 noon No bookings required
Details:
Contact: Members $5 Guests $7
Mornington Peninsula Regional Gallery
Dunns Road
Mornington VIC 3931

---
Melbourne Politix


Federal, state, local, blah, blah, blah... make sure you get the full story HERE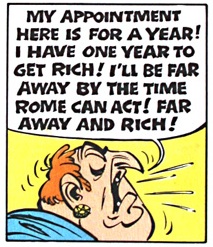 ---
Coote exhibition at
to National Trust Gallery
Now extended to June 28



An exhibition of prints entitled 'When you Go To Melbourne' by Maree Coote will be on show from May 7 ...

Now extended to Friday 28 June

at the National Trust Tasma Gallery.
Open 9:00 am - 5:00pm
Tasma Terrace Gallery
4 Parliament Place
East Melbourne 3002

See more of the exhibition online HERE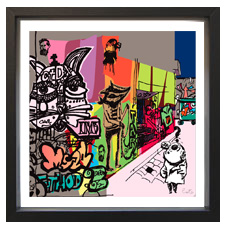 ---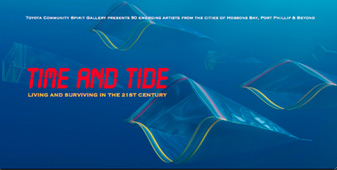 shortlisted Toyota emerging artist


'Keep Left' by Maree Coote has been selected as one of 50 finalists in the Toyota Emerging Artist Exhibition, 2013. The exhibition is entitled TIME AND TIDE - living and surviving in the 21st Century, and runs from 27 March to 27 June.
Exhibition to be held at Toyota Australia, 155 Bertie St, Port Melbourne [Mel Ref 2E B11] 109 Tram, Stop 127, North Port Station/ Lightrail Port Melbourne. Open Monday to Friday, 9am to 5pm or by appointment Exhibition continues until 27 June 2013 Inquiries Ken Wong 0419 570 846 or info@watcharts.com.au
Check out WatchArts for full details.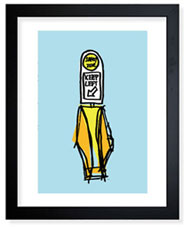 ---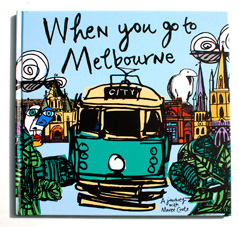 It's a reprint!!


Still Selling like hot cakes!! This nonsense romp around the city of style for children of all ages, by Maree Coote, has captured the hearts of Melburnians and visitors of all ages. Published by our very own imprint, Melbournestyle Books, it was launched on February 25th by Melbourne's Deputy Lord Mayor Susan Riley, and promptly sold out in under 3 months. MORE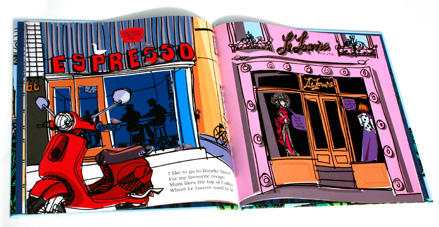 ---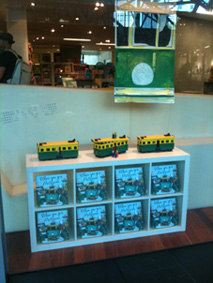 NGV window features new Melbournestyle Book


Another stunning window devoted to When You Go To Melbourne! How fantastic! This book has been embraced by Melbourne, we couldn't be more thrilled.
Thanks NGV..MORE
---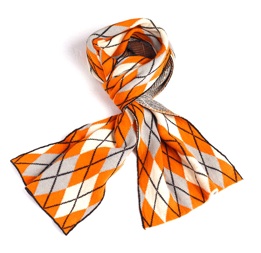 more of that new stuff


Local designers Indus doing great things for him, her and home. And Melbournestyle has them - come and see...MORE
---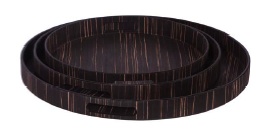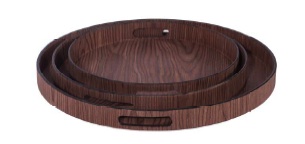 tray manifique


Set of three, fantastic trays. Oh come on, you love them!
---




unfinished business


Spread the word to raise awareness and promote the need for recognition of Aboriginal and Torres Strait Islander peoples in the Australian Constitution. Australian voters will be required to spearhead the change and bring the Australian Constitution into the 21st century, and recognise the unique cultures of Australia's First Peoples.  It takes a majority of voters in a majority of states to vote 'yes' to make the change, and the barriers are high ­ so we say spread the word, get informed. Learn more here at youmeunity.org.au
www.unfinishedoz.com.au
ANTAR factsheet on constitutional reform
---
MADE BY MELBOURNESTYLE


the Melbourne cushions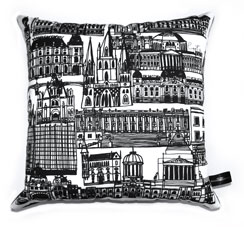 Comfort city...
Finding meaning in Melbourne's history, Maree Coote has explored another city block. It's all there in Black and White, $95

.
NEW cushion collection made in Melbourne.


Made by Melbournestyle






Don't forget the Tsunami...


... and our friends in Japan. It's been a long time between sakes, but Melbournestyle owes much to Japan. We have been blessed by treasured Japanese friends, exquisite Japanese design, unforgettable Japanese travel, life-changing Japanese insights, even our brand name is inspired by very special Japanese friends. Let's not even mention the world's freshest cuisine. So now's our chance to give back to our much-loved Japanese friends in their time of need. You can too - if you can help Japan, click here or go to your Commonwealth bank to donate.
Doomo Arigatoo...Ki wo tsukete, minna san.


---
The Melbourne Book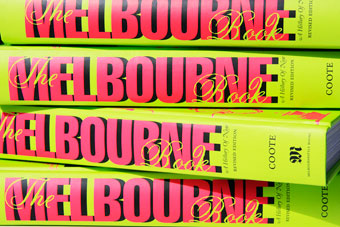 And let's not forget the LATEST edition of The MELBOURNE BOOK, A History of Now. Just $55. Made by Melbournestyle.
NEW tales from Melbourne's short but amazing history. NEW photographs of this ever-changing city. NEW CELEBRITIES include Adam ELLIOT, Eddie PERFECT, Molly MELDRUM. NEW CHAPTERS include the story of pub rock and Countdown, of artist and expeditionist Ellis ROWAN, and a full biography of fashion designer Jenny BANNISTER. UPDATED CHAPTERS on the latest in Laneways,Trams, Flinders Street Station, Melb v Sydney, Melbourne Cup, Fashion, Vegemite, Weather, Le Louvre and more. It's the must-have Melburnian's manual; it's STILL THE WORLD'S MOST LIVEABLE BOOK
THE MELBOURNE BOOK - LATEST EDITION
Still the best book there is on Melbourne Town.
OUT NOW $55 at all good bookstores and at Melbournestyle of course.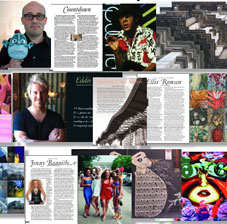 SEE the glittering BOOK LAUNCH ..............
Or SEE MORE BOOK


Made by Melbournestyle
---
Melbournestyle is proud to acknowledge the Wurundjeri people of the Kulin nation, traditional owners of the land from which we create our wonderful Melbourne-inspired stories and designs.
---
---
FIND US HERE
MAP re CBD

Closer MAP

---
That's it for now.
Stay gorgeous,
Ms MELBA x


tellmelba
---
And if that's not enough culture for you in one hit, here's more.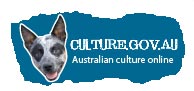 ---
Melbournestyle also on