reviews
WHAT THEY SAY ABOUT MELBOURNESTYLE
---
---
OUR FAVOURITE GLOBAL MEDIA ITEM:: THE NEW YORK TIMES


2007: That's right - THE New York Times paid us a visit. How did they find Melbournestyle? These New Yorkers... they don't miss a trick!
What did they find in store? For full article on Melbourne click here:
NYT Style Magazine Totally Aussie in Melbourne
or jump direct to the article DESIGN WITHIN REACH - we're item 5!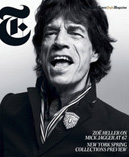 ---
OUR FAVOURITE LOCAL MEDIA ITEM:: THE ABC TV
Our A-B-C on YOUR ABC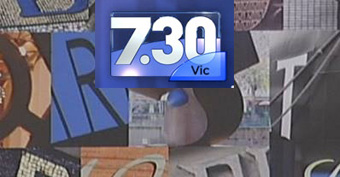 NOVEMBER 22, 2013: The ABC's 7.30 REPORT features
Alphabet City Melbourne by Maree Coote. And we are so thrilled!! Watch the full story on ABC iview HERE

---
... AND ALL THE OTHER WONDERFUL MEDIA & REVIEWS...
---


FEBRUARY 7,2014: VIEW Interview by Caroline Larfargue of ABC Radio International chats with Maree Coote about her Ned Kelly Series:
'Ned Kelly: justicier au grand coeur ou assassin sans scrupules?'
Or in English.... 'Australian hero or notorious criminal - who is the real Ned Kelly?'

---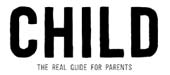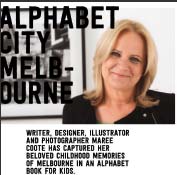 FEBRUARY, 2014: MELBOURNE"S CHILD magazine interviews Alphabet City Melbourne author Maree Coote. READ ARTICLE HERE
---


FEBRUARY 11,2014: PS NEWS reviews Alphabet City Melbourne
"Here's a unique way to go on an alphabetically-inspired trip around Melbourne and a fun way to educate children up to five years of age........Even grown-ups will be inspired to keenly bond with their visual environment as they see outlines of familiar landmarks!"
---


JANUARY 14,2014: The Sydney Morning Herald & The Saturday Age Traveller asks Melbournestyle author Maree Coote about her fave destinations - other than Melbourne. You mean there are other places????.
---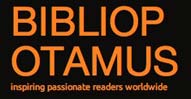 JANUARY 6, 2014: Bibilopotamus reviews Alphabet City Melbourne:
"Listen up Melbourne parents! I think I have found the perfect book for you. I was at a first birthday party on the weekend and one of the stand out presents was Maree Coote's 'Alphabet City Melbourne' (Board Book).....The kids loved it and even a few of the adults (me included) issued sqwarks of delight when we found a letter we recognised. What could be better?"
Thank you Bibliopotamus!
---


DECEMBER 11, 2013: The West Australian reviews The Melbourne Book HERE
REVIEW: "More in-depth than a travel book and more fun than a history book. The Melbourne Book: A History of Now peels back the glossy tourist brochure facade of many such publications to uncover a city of substance. Artist, designer and author Maree Coote has taken the minutiae of the world's most liveable city, such as its weather and its invention of Vegemite, and turned them into a unique story of Melbourne and its people. Comprising a collection of interviews and more than 700 colour photographs, The Melbourne Book is perfect for not only fans of the city but also fans of Australian history and culture."
- Heather Zubeck, 'Under Review', BOOKS, The West Australian
---


DECEMBER 12, 2013: KIDS VOICE Magazine reviews Alphabet City Melbourne HERE
---


DECEMBER 11, 2013: Alphabet Street reviews
Alphabet City Melbourne HERE
---


DECEMBER 6,2013: The Weekend Australian TRAVEL asks Maree for the Insiders tips on Melbourne...
---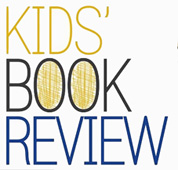 DECEMBER 5, 2013: And here's the KBR Alphabet City Melbourne BOOK REVIEW:
EXCERPT: "I love the concept of Alphabet City Melbourne and I think it has an appeal that extends beyond the toddler and preschooler audience that the board book form implies.... Alphabet City Melbourne is a book that inspires children to look at their world with fresh eyes, to see shapes and forms in familiar buildings and structures and to actively engage with their visual environment..." - Susan Whelan, KIDS BOOK REVIEW
READ ON...
---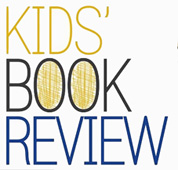 NOVEMBER 27, 2013:

Kids Books Review

INTERVIEW with Maree Coote author of Alphabet City Melbourne ...
EXCERPT: "I try to get people to take up noticing, which I think is a dying pastime and fast losing favour with the e-distracted young. With their indoor lifestyles, prescribed entertainments, and with their heads stuck in screens and devices. At worst they'll get hit by a tram, at second worst they'll miss out completely on their own time and place. This is their city, their time, their place, and their story. They should own it."
READ ON...
---

NOVEMBER 27, 2013: Mother Driven reviews Alphabet City Melbourne HERE
---


NOVEMBER 26, 2013:

Our kidz

reviews Alphabet City Melbourne
---


NOVEMBER 19,2103: Reviews The Melbourne Book and Alphabet City Melbourne
---
4 stars for The Melbourne Book


NOVEMBER 21,2013"A stunning hardcover book with colour photos throughout, this non-fiction gem covers all aspects of this magnificent city: Melbourne....
My rating =

****

- Carpe Librum!"
---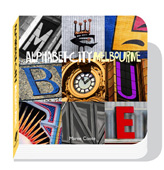 NOVEMBER 19,2013: Alphabet City Melbourne review by


Lisa Hills School Stuff

.
"Alphabet City Melbourne is one of the cleverest little books I've come across....What makes it so clever is that each letter is hidden in an image, a photo taken of some place or object in Melbourne....But the tricky ones are the ones that our Preps really liked.  I lent this book to one of our prep teachers, and she had a splendid time (and did some very useful revision of letters and sounds) with her class....Our preps know that they're pretty clever because they can read now, but they were apparently beside themselves with excitement when they were able to puzzle these letters out.  (And I think their teacher enjoyed it just as much as they did!)...." READ ON

---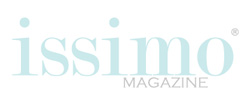 NOVEMBER 6, 2013:Veronica Ridge writes:'Alphabet City Melbourne is a unique children's book highlights Melbourne's diverse architectural design....' read on!
---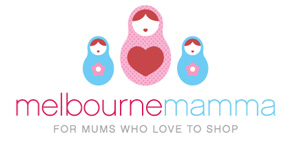 NOVEMBER 15, 2013: Melbourne mamma loves our new baby book Alphabet City Melbourne. mamma mia's must haves
---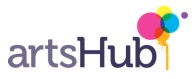 OCTOBER 23,2013: "Maree Coote's guide to Melbourne is as extensive as it is passionate." - ARTS HUB reviews The Melbourne Book :A History of Now . "This isn't a history of or guide to Melbourne you'll read cover-to-cover and feel all the richer for it. It's an affectionate guide to the city and everything it offers and, like its subject, something you can enjoy at your leisure. You explore its pages the way you do a city: see something, think 'oh, that's interesting' and then experience it. 'There's a pretty great city out there,' Coote seems to say. 'Go have a look.' I'm inclined to agree."
- CORY ZANONI, ARTS HUB Full review here
---




3CR COMMUNITY RADIO


OCTOBER 10,2013: Jan and David, (the Pomeranz and Stratton of Melbourne radio!) from 3CR's PUBLISHED OR NOT Books Program interview Maree Coote about the brand new edition of The Melbourne book, and other recent and upcoming titles by Maree. (What a privilege to enjoy a full half hour chat with this duo! -MC).
Click here to hear the podcast: Published or Not
---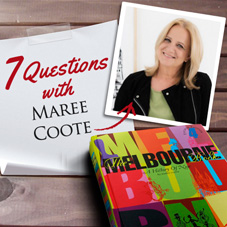 Australian Writers Centre Interviews Maree Coote


OCTOBER 28, 2013: The Australian Writers Centre interviews Maree Coote about her new edtion of The Melbourne BookHERE
---

Time Out reviews the new The Melbourne Book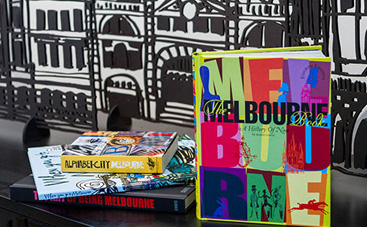 OCTOBER 2,2013: The Melbourne Book celebrates the world's most liveable city. Gabrielle Easter goes to Melbournestyle, the design studio behind it... Full review HERE
---
TimeOut interviews Melbournestyle
READ ON
---


APRIL 27,2013: The Saturday Age Life&Style's Mary O'Brien interviews Melbournestyle author and artist Maree Coote in My Secret Melbourne.
---
Melbournestyle selected by Mapple Magazine Australia 2014.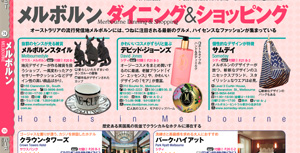 Melbournestyle is privileged to be one of only three Melbourne retailers featured in this guide! What an honour. Thanks to Mapple Magazine for finding us. Doomo arigatoo gozaimasu. Here is our thanks:


---
Melbournestyle taken to the world!


MARCH, 2013: BS JAPAN TV filmed a segment at Melbournestyle, as part of their TV Special on Australia and Melbourne entitled: Travelling Through Magnificent Scenery which went to air in Japan w/c March 12, 2013. We were beamed into over 30 million homes in Japan! Yes, that's the correct figure! How exciting! Melbournestyle is so thrilled to be the only Melbourne retailer featured in this entire film! We are so honoured to be included. Thanks to Oceapro Films for finding us. The crew were wonderful. Doomo arigatoo gozaimasu.

---



MARCH, 2013: The Cityof Melbourne interviews Maree Coote, at the launch of her new children's book, 'When You Go To Melbourne' at Melbournestyle Gallery.
---


MAR, 2013: Melbourne Observer reviews Melbournestyle Books' new title:
WHEN YOU GO TO MELBOURNE. Big thanks to the marvellous Di Rolle for her interest and support.

---
JAN, 2013:

The Little Bookroom

has devoted their window to Melbournestyle Books' new title:
WHEN YOU GO TO MELBOURNE by Maree Coote,
and the wonderful Jess has created this knockout window for the
Degraves Street store inspired by our book. Thanks to Leesa and her team at LBR!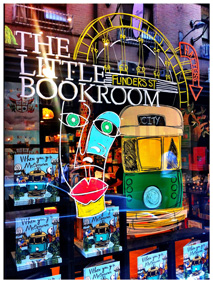 ---


Thanks to The Age - 'Bookmarks' for their acknowledgement of Melbournestyle's latest publication, THE ART OF BEING MELBOURNE, and its recent award.
"CONGRATULATIONS to Maree Coote, who has won the major prize in the Victorian Community History Awards for her book The Art of Being Melbourne, which chronicles in a beautiful and original way the development and history of Melbourne over 200 years or so via its representation in art." - Jason Steger, The Age, 27 October, 2012.
The title won the Royal Historical Society of Victoria's 2012 Community History Award, generously funded by the Public Records Office of Victoria. And again in:



The book "chronicles in a beautiful and original way the development and history of Melbourne over 200 years...via its representation in art." - Bookmarks, Oct 27, 2012.
---


MAY 2012: 05.03.12 The Melbourne Book author, Maree Coote returns to Breakfasters to chat about her newest book about the city, The Art of Being Melbourne. Maree shares her experience of putting together the book, which features portraits of Melbourne's urban spaces and makes an argument for what she considers Melbourne's most iconic landmark.
Listen to RRR interview here
---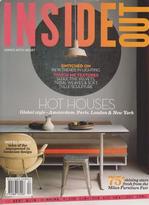 IN THIS ISSUE, a review of Maree Coote's new book: 'The Art of Being Melbourne'. "A flick-through gallery that not only charts the tone and progress of the southern capital but spins the history with fresh perspective. Stroll its streets, get caught in its rain, take its trams and dip your toe in its bay via brush and canvas. Moody, marvellous informative."
---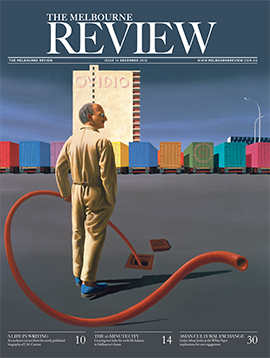 IN THIS ISSUE, Melbourne writers including Maree Coote contribute their suggestions for Christmas and New Year reading.
---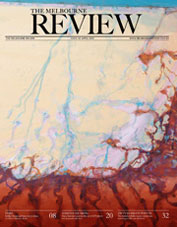 THIS ISSUE Excerpt from The Art of Being Melbourne by Maree Coote.
---


JANUARY 2012: Megan Backouse of The Age reviews Melbournestyle and interviews Maree Coote.
Life & Style ARTS 28Jan 2012
---
WOMAN'S DAY:: Dec 2011



...features Melbournestyle and the French Bull Platters...
Thanks Style File and Womans Day!
---
THE MELBOURNE REVIEW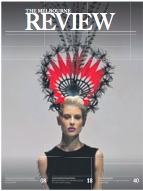 is a brilliant addition to Melbourne's landscape. We are thrilled to be there in Edition Two, read on...
---
MARIE CLAIRE ITALIA says Si!
to The Melbourne Book by Melbournestyle Books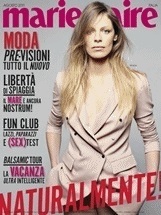 Marie Claire Italia, which is, like, the best of French and the best of Italian, says The Melbourne Book, by Melbournestyle Books, is the best read you can get on Melbourne. Well, we say the same thing - how about that? read on...
---
JAPAN AIRLINES REVIEWS MELBOURNESTYLE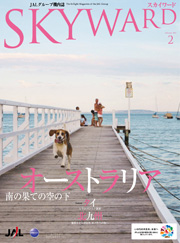 Skyward, Japan Airline's inflight magazine, focusses on Australia. This stylish look at what makes Australia so enticing includes Melbournestyle and the delights of our home grown city-centric design. Domo arigato, JAL! See it here
---
INSIDEOUT gets inside Melbournestyle!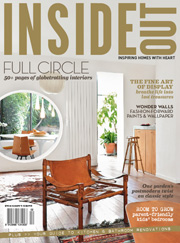 Australia's own style bible chooses the Melbourne Scarves as Editors Choice: "A City souvenir has rarely looked so smart!" See it here
---
COOL HUNTING IN NEW YORK!
"Dedicated to showcasing an array of Melburniana, founders Maree Coote and Lex Ridgeway offer a well-edited collection of products for the native and tourist alike. Spanning beautifully-packaged Melbourne map soaps and charming kangaroo chopstick rests to fashionable silk scarves and beaded baubles, the assortment represents some of the city's finest artists and designers."-
Coolhunting.com
---
"There is a time and place for a good souvenir. These really are the most interesting and well-designed souvenir-style gifts I have come across." - THE DESIGN FILES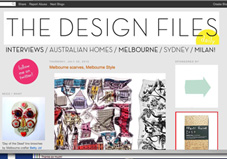 The Design Files (the webs' most gorgeous collection of information objects and style) has just featured Melbournestyle. We know once you taste The Design Files you'll be addicted!
---


"A great big love letter to Melbourne!"
In October 2010 interview with the Breakfasters on Melbourne's funkiest RRR FM radio Melbourne, author Maree Coote enjoyed 15 minutes chatting about the book with DJs Fee-B, Ben and Jess who declared The Melbourne Book 'a great big love letter to Melbourne!'
PODCAST here.
---




"IT'S AN ORIGINAL, WITH A STRONG SENSE OF PLACE AND ABOVE ALL, IT'S A STYLISH MOUTHPIECE FOR MELBOURNE."


RED MAGAZINE NOV 2010

---


OMG! OPRAH! According to The Age, (Sat.18/9/10 P.7 news) Melbournestyle's own Melbourne Scarves are the pefect gift for Oprah. And we agree of course.
And so we went to Dinner with Oprah's peeps: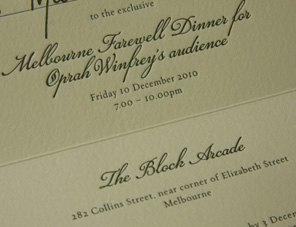 More Oprah here...
---


"Here is much more than a store, it is a history lesson, a celebration of all that is uniquely Victorian (including Ned Kelly), somewhere to lose yourself and delight in the sheer creativity on offer (tasteful creativity, of course, in true Melbourne style). It makes souvenir places seem very tacky in comparison. On Clarendon Street South Melbourne, it's the first and only experience of its kind. A visit to Melbournestyle is a must do."
- Extract from RACV's 101 Best things to do in Victoria

---




"THIS MELBOURNE MECCA IS BANISHING THE CULTURAL CRINGE WITH ITS BEAUTIFUL AND UNIQUE INTERPRETATIONS OF AUSTRALIAN ICONOGRAPHY."


- HOME BEAUTIFUL magazine

---


"IF YOU LOVE THIS FABULOUS CITY OR ARE LOOKING FOR THE PERFECT SOUVENIR....."
- HOMESPUN magazine

---


"There are no flippant inclusions.Everything has a reason for being - a connection to Melbourne or Melbourne people who are doing something special."
- MELBOURNE LIVING Magazine, August 2009
Thanks to the fabulous people at Melbourne Living magazine for their tribute to our tribute to Melbourne.
---

"E' negozio e galleria questo spot avviato con successo dall'artista Maree Coote, specializzato esattamente nel Melbourne style: arte, moda e oggettistica, tutto disegnato e realizzato in citta."
- Review :Italia Blogosfere

---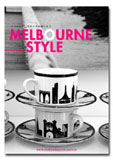 We also had a visit from JAPAN-VIC.TOURISM Inbound Shopping Guide. This well-researched industry handbook is the ultimate resource for inbound Japanese tour operators, and features melbournestyle as its lead store, while its cover features our legendary Melbourne Cups and Saucers. They even named it after us! Domo Arigatoo Gozaimasu! (Not available to local Aussie shoppers - but you don't need it - you already know where we are, right? )

---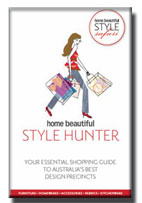 Meanwhile, back here at home, since they first found us in Home Beautiful , the Home Beauties have visited time and again with their fab shoping tours (see below).
HOME BEAUTIFUL has listed melbournestyle in the legendary STYLE HUNTER Shopping Guide...So you can grab a copy (free with the latest issue) and visit us along with all the other top-shoppable spots in Melbourne in one go. Look forward to seeing you in your safari suits soon.
Thanks to the gorgeous gals at Home Beautiful - we are very chuffed to be included in their guide. See you soon.

---


Triple R Sponsor

---
SEE INSIDE MELBOURNESTYLE
VIRTUAL VISIT US here!
---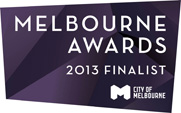 2013 FINALIST, The Melbourne Award Melbournestyle founder Maree Coote is named as one of 5 finalists in the 2013 Melbourne Awards Contribution to Profile by an Individual.

---
2010 FINALIST, Creative Industries
PORT PHILLIP BUSINESS EXCELLENCE AWARDS



2008 BEST Specialty Retailer Category
Port Phillip Glen Eira Leader Business Acheiver Awards 2008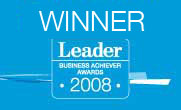 2008 FINALIST The Melbourne Awards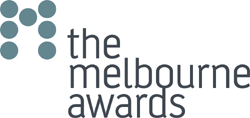 2008 FINALIST Port Phillip Business Excellence Awards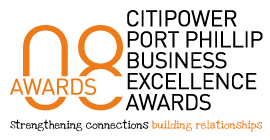 2007 WINNER Best New Business Specialty Retailer Category, Leader Business Acheiver Awards

2007 WINNER Best Business Under 50 Employees Category, Leader Business Acheiver Awards.

---
The PORT PHILLIP LEADER features Melbournestyle's Melbourne Cups too ...
---
"EVERYTHING IN THE GALLERY PLAYS ON MELBOURNE'S UNIQUE SENSE OF HUMOUR AND CULTURE THROUGH CLEVER OBJECTS."


melbournestyle's domestic sculpture was profiled here in the EMERALD HILL WEEKLY's Retail Therapy column - the tag of 'Arte-facts and fictions' being uncannily close to what we are all about!
---
Once more, THANKS to all who have helped bring our message of place, style, art and history to the wider world.
---
If you have some good news about Melbourne, email us and we'll post your news and /or links right here.
---

---
news:blog
WHAT'S NEW, MELBOURNESTYLE
---
---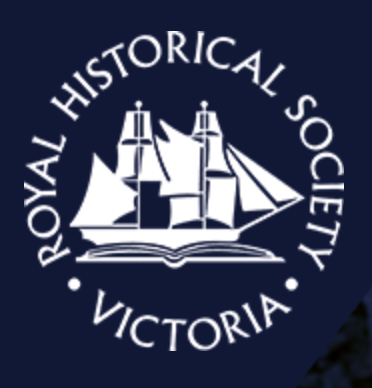 Discover Yesterday


The Royal Historical Society of Victoria wants you! Join today to discover a treasure trove of stories and share in a passion for the past. Great talks, great people. Become a member HERE.

---
Melbourne Diva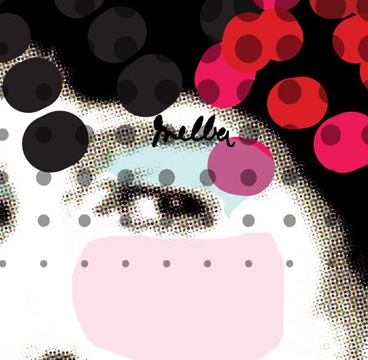 New work by Maree Coote
See more HERE or drop in to the gallery....

---
New product ranges #One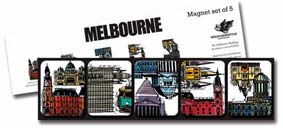 Melbournestyle's much loved BUILDING Series is now available in an extended gift range, including all kinds of goodies from tinned gift card sets to magnets, all featuring The Melbourne Buildings illustration by Maree Coote. See the full design collection in the brochure HERE.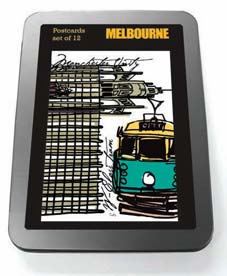 For more info about buying or stocking this range, email us here.
---
New product ranges #Two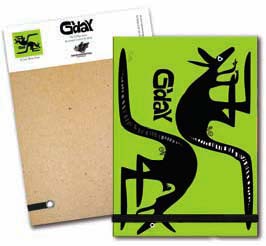 Melbournestyle's much loved GDAY Series is now available in an extended gift range, including all kinds of goodies from exercise books to lens cloths, all in the bold bright funky GDAY series by Maree Coote. See the full design collection in the brochure HERE.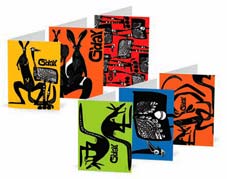 For more info about buying or stocking this range, email us here.
---
Keep Left, but what do rhino?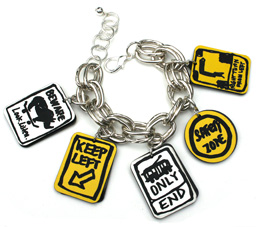 Thinking of turning right from the centre? No, no... keep left, and stay in the safety zone. And if it's all too much, remember the cryptic Melburnian credo: Trams Only End. A metaphor?
Street parahernalia in engraved laminate on a silver chain, by Maree Coote



Handmade by Melbournestyle
---
How trivial!! You could land the lot!!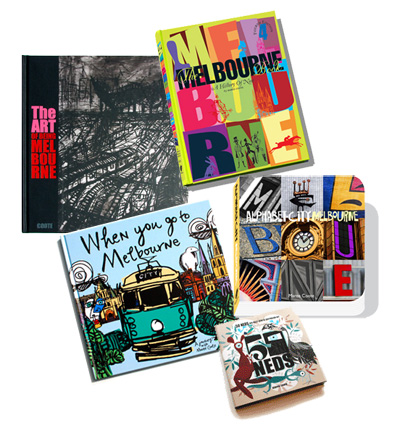 You can land a family-full of Christmas presents in one hit ! Valued at $200, your shopping is done. These top 5 books about Melbourne include something for everyone: The Art of Being Melbourne - perfect for Mum, The Melbourne Book: A History of Now for Dad, When You Go To Melbourne for little sis or the budding artist in the family, Alphabet City Melbourne for the new bub, and - how amazing - even something for that difficult skaterboy/teen/street artist: 50 Neds.

How to take home this Christmas Package?? Come to the FinalYoung UN Women Australia - Melbourne Chapter Trivia Night, on Thursday, 28 November at Coopers Inn, Exhibition Street Melbourne, and bid at our Silent Auction for a trove of great prizes.
BOOK HERE
Melbournestyle has been proudly supporting YUNWA for the past 4 years, and is sad to see YUNWA leave our shores. We hope to partner in the future with the next incarnation of this amazing band of young women and the wonderful charity work they do. Congratulations YUNWA, you have done a remarkable job raising awareness in Melbourne about the issues that impact women around the world, improving the lives of those who find themelves disenfranchised, abused and underprivileged, and creating networks that benefit women and building leadership opportunities. Thank you YUNWA Melbourne for letting us be a small part of your network. It's been an honour.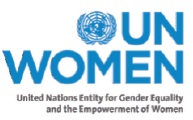 ---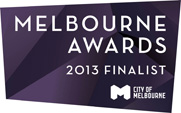 2013 FINALIST, The Melbourne Awards
Melbournestyle founder Maree Coote is named as one of 5 finalists in the 2013 Melbourne Awards, category: 'Contribution to Profile by an Individual'.

---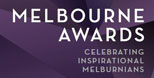 Congratts to Matt


In the category of 'Contribution to Profile by an individual' Melburnian, Matt Irwin took out the gong - well done Matt. Many years of photographing in the foggy cold under bridges finally acknowledged.

---
Waaay Cool: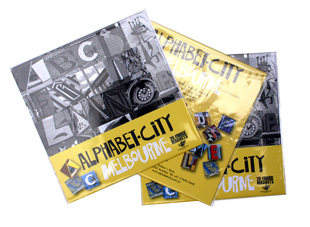 To match our latest Alphabet City book is this new Fridge Magnet gift pack. Yes! it does come in black and white, for those chic Melbourne fridges - we call this version 'Blue Steel'.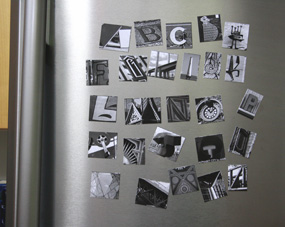 Also available in colour for those who like a little gaiety in the kitchen.
All the letters you'd expect form a good qulaity alphabet are there, for all the fridge action you can muster. Only $10 from Melbournestyle!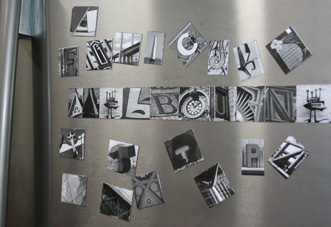 ...and of course they are local and proudly made by


Made by Melbournestyle
---
Race day reportage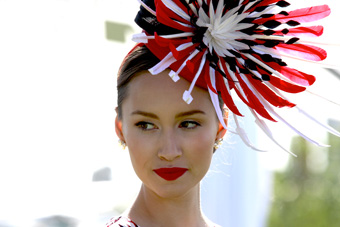 This is Chloe (star of The Melbourne Book Edition 4), and this year she won Fashions on the Field. (I can pick 'em.)
The thing about the Melbourne's racetrack is the weather there is so BIG. When the weather is bad, it's bad in a big way: Big winds, big heat, sheets of rain, extreme UV, or super-humid and steamy with damp rising from acres and acres of lush moist grass. It can be gruelling for fashionistas, photographers and working crew because you can't slink off to a marquee or a bar, you are so utterly exposed to the elements, so much wide open space for miles around. So the thing is ­ when the weather is good, it's really good, and when it's perfect it's Big Perfection.
Cup day 2013 was one of those days where the sheer pleasure derived from the sun on your shoulders, the intense blue of the blue sky, the feeling of removal from the everyday to that glorious island of fresh air and nourishing open space, the heady scent and colour of fashion, beauty and roses tantalizing eye candy, it was magic.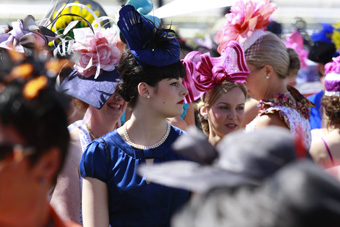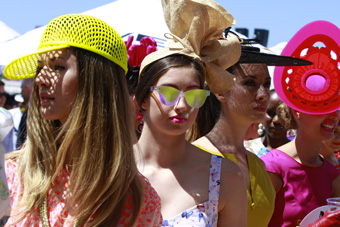 ---
We've had another new baby!

ALPHABET CITY MELBOURNE has arrived! Dubbed the 'son of the Melbourne Book' this chunky little reader is a great way to learn the letters of the A-B-C while getting to know the city. Hopefully this will create colourful, visual and lasting memories in Melbourne's tinier minds. See inside the book HERE.



Also check out Melbournestyle's newest venture, www.alphabet-city.com.au, and help us explore the world through images and connections with other photographers.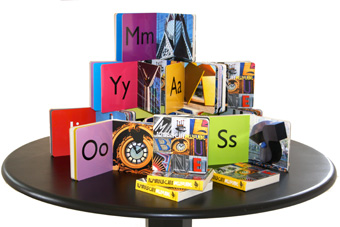 Made by Melbournestyle
---
It's HERE!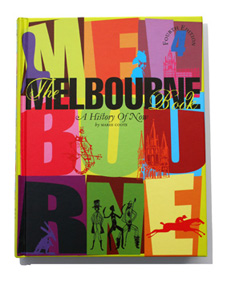 The Melbourne Book: A History of Now - Edition 4 is finally here, and will be officially launched next week by Michael Williams, Director of The Wheeler centre for Books, Writing and Ideas.
See more of the inside pages HERE.


Made by Melbournestyle
---
more brilliant tracks from Victorian Gaye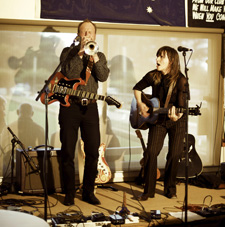 If you haven't discovered Victoriana Gaye, get listening now to "classic 60s surf guitar and rhthym with a touch of Bacharach..... Beautiful chords ring out into space over rhythms that ebb and swell like the sea itself." - (Martin Jones of Rhythms Magazine).
For us kids at Melbournestyle, this is the music we relax to, holiday to, cruise to, dance to, cook to and yes, even thrill to. It's local, handmade and amazing. It shouldget waaaaaaaay more press than it does.
Click the pics to hear the youtubes.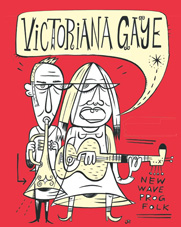 ---
OMG!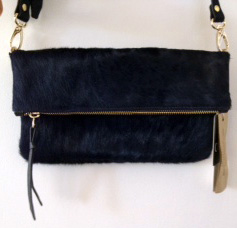 OMG these bags are so cuuuute! carefully selected by our bagmaniac buyer, these fabulous fold-over clutches and cross-body bags are the easiest way to cool. This one is BLUE CALFSKIN, and it's lines with orange suede. We only bought limited stock so be quick! MORE
---




unfinished business


Spread the word to raise awareness and promote the need for recognition of Aboriginal and Torres Strait Islander peoples in the Australian Constitution. Australian voters will be required to spearhead the change and bring the Australian Constitution into the 21st century, and recognise the unique cultures of Australia's First Peoples.  It takes a majority of voters in a majority of states to vote 'yes' to make the change, and the barriers are high ­ so we say spread the word, get informed. Learn more here at youmeunity.org.au
www.unfinishedoz.com.au
ANTAR factsheet on constitutional reform
---
MADE BY MELBOURNESTYLE


the Melbourne cushions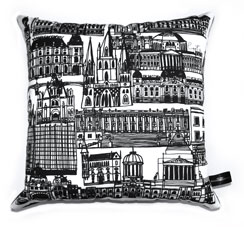 Comfort city...
Finding meaning in Melbourne's history, Maree Coote has explored another city block. It's all there in Black and White, $95

.
NEW cushion collection made in Melbourne.


Made by Melbournestyle






Don't forget the Tsunami...


... and our friends in Japan. It's been a long time between sakes, but Melbournestyle owes much to Japan. We have been blessed by treasured Japanese friends, exquisite Japanese design, unforgettable Japanese travel, life-changing Japanese insights, even our brand name is inspired by very special Japanese friends. Let's not even mention the world's freshest cuisine. So now's our chance to give back to our much-loved Japanese friends in their time of need. You can too - if you can help Japan, click here or go to your Commonwealth bank to donate.
Doomo Arigatoo...Ki wo tsukete, minna san.


---
Melbournestyle is proud to acknowledge the Wurundjeri people of the Kulin nation, traditional owners of the land from which we create our wonderful Melbourne-inspired stories and designs.
---
---
FIND US HERE
MAP re CBD

Closer MAP

---
That's it for now.
Stay gorgeous,
Ms MELBA x


tellmelba
---
And if that's not enough culture for you in one hit, here's more.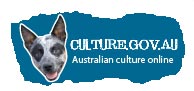 ---
Melbournestyle also on